10 Major Takeaways From FM Nirmala Sitharaman's Maiden Union Budget
BOOM highlights the key takeaway points of Modi 2.0 government's first Union Budget, announced by Finance Minister Nirmala Sitharaman.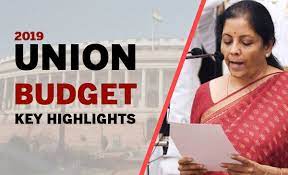 On July 5, 2019, Finance Minister Nirmala Sitharaman presented her maiden Union Budget on behalf of the NDA-2 government.
Sitharaman kicked off this year's Budget announcement by stating that India is to become a $3 trillion economy by FY20, and expected to rise to $5 trillion by 2024.
Here are 10 major takeaways from this year's Union Budget announcement
1. Taxation
Personal Tax: no changes in the tax slabs - those with income under Rs. 5 lakh pay no tax
Super Rich: Increase in surcharges by 7% for those earning between Rs. 2 crore and Rs. 5 crore, and 3% for those earning above Rs. 5 crore, annually
Corporate Tax: Lower rate of 25% corporate tax applicable to corporations having annual turnover of Rs. 250 crore has now been expanded to cover those having a turnover of Rs. 400 crore
Special Excise duty and Road and Infrastructure Cess increases on petrol and diesel by ₹1 per litre each
Aadhaar/Pan to be used interchangeably for the filing of tax returns
2. Public Finances
Fiscal deficit reduced to 3.3% for FY 20, down from the 3.4% as the revised estimate of FY19
Total budget of approximately ₹28 lakh crore
The economy is worth $2.8 trillion, is estimated to reach $5 trillion in 5 years
3. Affordable Housing
Pradhan Mantri Awas Yojana (Grameen): Proposal of setting up 1.95 crore houses equipped with toilets, electricity and LPG connections to eligible beneficiaries
Pradhan Mantri Awas Yojana (Urban): 26 lakh houses have been completed, while 47 lakh houses are under construction
Interest deduction for affordable housing, up to a value of Rs. 45 lakh, increased to Rs. 3.5 lakh from Rs. 2 lakh
4. Banks/PSUs
Allocation of Rs 70,000 crore for PSU bank recapitalisation, of which ₹40,000 crore will go toward sustainable bank growth
Government successful in the PSB consolidation, bringing the number down by 8
Govt to re-initiate Air India disinvestment
Loan recovery stands at ₹4 lakh crores in 4 years, and the disinvestment target stands at ₹1.05 crores for this year
5. MSMEs/Startups
Pradhan Mantri Karam Yogi Man Dan Scheme: Extend pension benefit to 3 crore retail traders with an annual turnover of less than Rs. 1.5 crore
Creation of payment platform for MSMEs for easy payment of bills
Integrate traditional artisans and creative persons with the global market
10,000 new farmer producer organisations (FPOs) for ensuring market reach for farmers.
Extended the period of exemption from capital gains from sale of startups
Startups not required to justify fair market value of shares issued to investors in Category II Alternative Investments Funds
Rs. 350 crore allocated for 2% interest subvention to all GST registered MSMEs on all fresh and incremental loans in current year.
Launch of an exclusive TV channel for startups under Doordarshan bouquet to provide a platform for startups to disseminate information
Expansion of self-help groups to all districts. Loan of upto Rs. 1 lakh to be provided to one woman in every self-help group under Mudra Yojana.
6. Public Infrastructure
Railway station modernisation programme - to be launched this year
Railways:

Encourage to invest more in suburban rail network through special purpose vehicles
Enhance metro rail network through public-private partnerships

Roads: Carry out comprehensive restructuring of National Highway programme
1,25,000 km of roads to be upgraded under Pradhan Gram Sadak Yojana under Phase III for an estimated cost of Rs. 80,250
7. Education
National Research Foundation (NRF) to fund, coordinate and to promote research in the country
NRF to assimilate research grants given by various ministries
A focus on training new age skills like AI, VR, robotics, 3D printing
Allocation of Rs. 400 crore for world-class higher education institutions in FY20
Study in India programme to attract foreign students
8. Green Tech/ Renewable Energy
GST rate for electric vehicles reduced from 12% to 5%
Incentive on purchase of charging infrastructure
Additional income tax deduction of Rs. 1.5 lakh on interest paid on loans taken to buy electric vehicles
Tax benefits for manufacturers of products like lithium batteries and solar chargers
9. Investment
Liberalise FDI in aviation, media animation and insurance intermediaries
Hike statutory limits for foreign investments in certain companies
Creation of social stock exchange under SEBI to help organisations raise capital through equity, debt or a unit of mutual fund
Centre proposes tax benefits to incentivise investments in GIFT City
10. Space
New Space India (NSIL) has been incorporated as commercial arm of ISRO to harness India's space ability commercially