Was The Same Elderly Woman Pictured With Different Congress Leaders? A FactCheck
While the viral posts claim the same woman is posing with Congress leaders, BOOM finds that they are three different women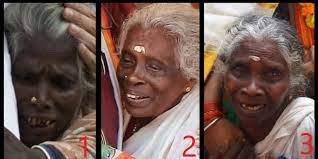 A viral post on social media showing a set of three pictures of old women embracing politicians falsely claims it is the same woman at all events hugging Congress leaders.
BOOM found that all the three women in the photos are different and that one of the politicians in the collage is a Bharatiya Janata Party member and not a Congress leader.
The post has a collage of three photos - the first showing Congress MP Shashi Tharoor embracing a woman, the second of Congress President Rahul Gandhi hugging an old woman and the third of a leader identified by Alt News as K Surendran, General secretary, BJP Kerala, posing with a woman.
The set of photos is viral on Facebook and Twitter with the caption that translates to, "This Amma is a registered downtrodden of the Congress"
( "ये अम्मा कांग्रेस की रजिस्टर्ड दुखियारी है)
The post is now viral on several Facebook pages.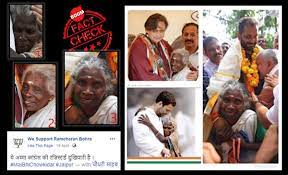 FACT-CHECK
BOOM first traced the three photos in the collage.
The first photo of Tharoor hugging an old woman is from April 13, 2019 and was tweeted by him.
The second photo of Gandhi and an old woman is from 2015 when Gandhi visited flood affected areas in Tamil Nadu and Puducherry. The photo was part of a set of photos tweeted by Congress during Gandhi's visit.
Interestingly, the third photo is that of a BJP leader K Surendran, general secretary for BJP Kerala. According to various posts, the photo was clicked when Surendran was campaiging and meeting voters in Pathanamthitta district in Kerala.
BOOM observed all the images closely and cropped out the photo of the women in the photos and found they are three different women and not the same woman in all the photos.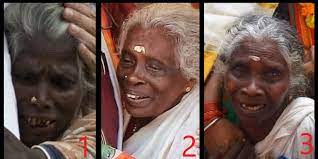 The first photo is of Gandhi embracing an old woman, the second is that of Tharoor hugging an old woman and the third is of BJP leader K Surendran posing with an old woman.
Differences in the photo
A closer look at the photo shows that all the three women have distinctly different facial features including their eyes and nose and hair colour.
However, their distinct set of teeth set them apart.
In the first photo the woman has stained and uneven teeth, in the second photo the woman has two even sized incisors or front teeth protruding and in the third photo, the woman's teeth are not protruding.
Claim Review :
Photos show the same old woman pictured with different Congress leaders
Claimed By :
Facebook posts