Fact Check
Viral Video: Did An Indian Woman Slap An Immigration Officer In Bali?
The woman identified as Auj-e Taqaddas is in fact a British national of Pakistani origin. She will face trial in Bali for slapping an immigration official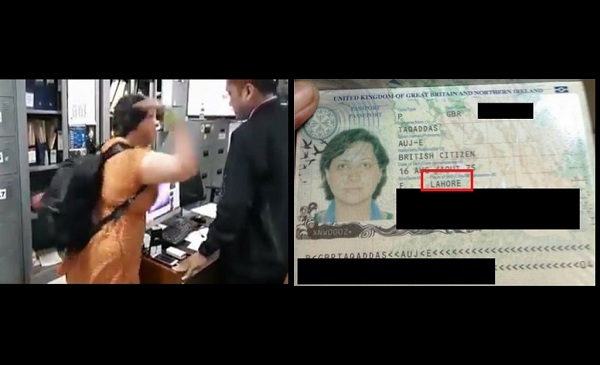 Image of British national Auj-e Taqaddas slapping an immigration officer in Bali
Was an Indian national caught on camera slapping an immigration officer at Bali international airport in Indonesia?
CLAIM: The 1:05 minute video that shows an hysterical woman verbally abusing an immigration officer and finally slapping him in anger has gone viral across Facebook and Twitter with two claims - that the woman is an Indian and she has been sentenced to 3 years in jail.
A Twitter handle @trehan_barkha tweeted the video making the claim. The video has been viewed more than 20,000 times.
Lady from India sentenced to 3 yrs in jail for slapping immigration officer in Bali ! pic.twitter.com/WXne1cKA8G

— Barkha Trehan (@trehan_barkha) August 3, 2018
The video has also gone viral on Facebook with many including Trehan appreciating the strict action taken against the lady.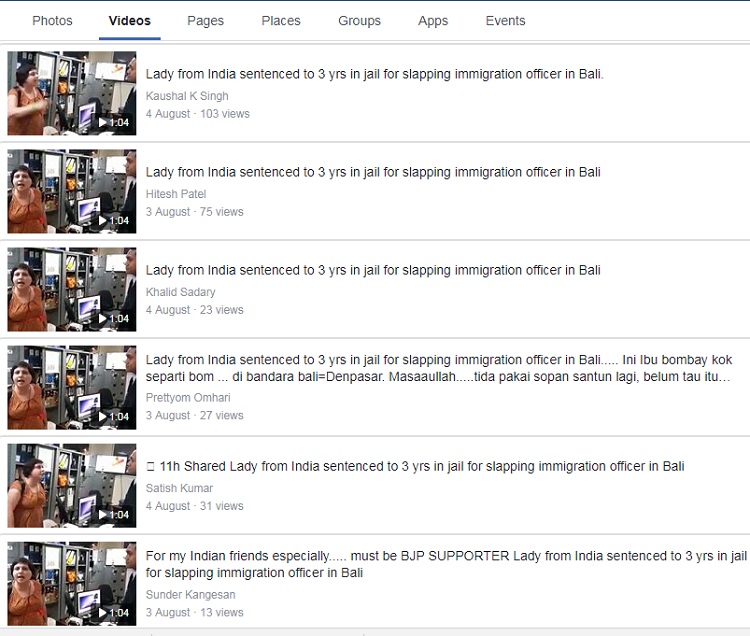 Several Facebook users drawing attention to the quick action taken by Bali officials, even drew parallels with Tanvi Seth, the lady from Uttar Pradesh who alleged harassment against a passport officer since she had married a Muslim and wanted to retain her maiden name. The Ministry of External Affairs under Sushma Swaraj had taken action against the officer after investigation revealed that he had overstepped his brief. Trehan's post on Facebook has got more than 30,000 views and has been shared over 640 times.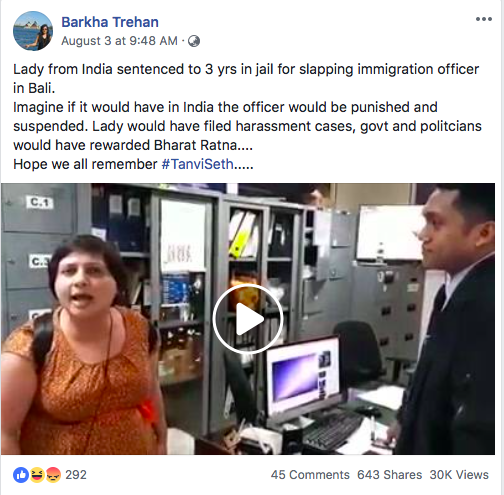 Screenshot of a Facebook post[/caption]
FACT: The woman identified as Auj-e Taqaddas is in fact a British national of Pakistani origin.
International media reports including BBC Indonesia reported that Taqaddas is a "Lahore born British national." Indonesia's largest news agency Antara News also reported her as being a "Pakistani national". The Mirror.co.uk and Russian website Sputnik also call her a "Pakistani origian British national." Taqaddas also holds a British passport as can be seen in many photos from the incident. The passport also mentions place of birth as Lahore.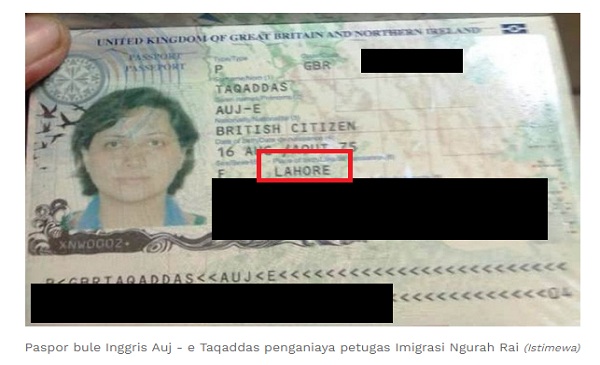 According to reports, Taqaddas has not been arrested but is detained by the immigration officials. Reports published in local Indonesian news websites state that Taqaddas appeared in Denpasar District court for her trial for slapping the officer but the trial was postponed to August 8. Till the trial is held, Taqaddas cannot be sentenced.
Additionally, Taqaddas who is a physicist and radiographer has published several papers available on Research Gate, a networking site for scientists and researchers. BOOM accessed one of them which mentions her bio as a "British-Pakistani" who has also completed her Bachelors of Science from Pakistan.
What happened?
On July 28, Taqaddas, headed to Singapore was detained by immigration officials who noticed that she had overstayed her visa by 160 days. Taqaddas's visa had expired on February 18 this year, causing the Immigration officers to detain her despite having a boarding pass. To not incovenience other passengers, Taqaddas was allegedly taken to a room by the immigration officials and asked to appear in the immigration office in Jimbaran on Monday, July 30 for further investigation. BBC Indonesia reported that this angered an already upset Taqaddas as it would mean she would miss her flight apart from paying a hefty fine.
The video shows an angry and abusive Taqaddas shouting at an immigration official who local media reports have identified as 28-year-old Ardyansyah. Taqaddas can be heard blaming the immigration officer for missing her flight. Taqqadas tried to snatch her passport from the officer but when he resisted, she slapped him on the face. She then lashed out at the officer filming the whole incident to put the camera away or show his "ugly face".
https://www.sharethefacts.co/share/165f3357-1cf3-42f5-8fad-fb0ad0fb1f4e
Do you always want to share the authentic news with your friends?
Subscribed Successfully...
Enter Valid Email Id