Video Of BSP Leader's Protest Shared With Misleading Claims
BOOM found that the footage of BSP leader Sunil Khambe's protest has been taken out of context and shared with misleading claims.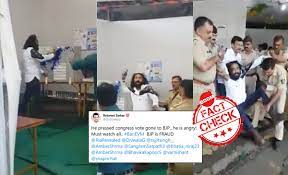 A footage of protest against electronic voting machines by Bahujan Samaj Party leader Sunil Khambe has gone viral on social media with misleading claims. Captions shared with the footage falsely claim that Khambe had voted for Congress, but his vote went to BJP, after which he staged his protest.
Khambe told BOOM that there was no error in the vote he casted, and that his protest was planned in advance as opposed to being an instantaneous reaction.
A Twitter user going by the name Retweet Sarkar shared a footage where a man is seen throwing ink at an EVM machine after casting his vote. The 2-min clip shows the man being dragged by the police, while he shouted, "EVM machines won't work! Down with EVM machines!"
The caption shared with the video claims that the man in the video (Khambe) had voted for Congress, but his vote went to the Bharatiya Janata Party, which led him to outrage in protest.
Fact Check
Using reverse image search of keyframes from the video, BOOM found an article by ANI which carried a similar image. According to the article, the man in the video is BSP leader Sunil Khambe, who threw ink on the EVM machine in a sign of protest against electronic voting at a voting booth in Thane.
BOOM got in touch with Sunil Khambe, who denied that his vote had gone to the BJP. He also denied voting for the Congress.
"My protest was not an instantaneous reaction to an EVM error, I had planned it in advance to get the attention, so I can voice my dissent against the use of EVMs," said Khambe.