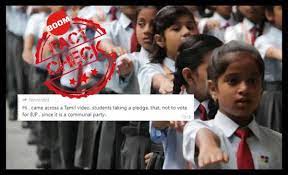 A video purporting to show school children take a pledge in Tamil to vote against the Bhartiya Janata Party (BJP) is fake.
BOOM received the 53 second video on its WhatsApp helpline number (7700906111) from one of our readers.
The video shows a large auditorium where school students in uniform can be seen mouthing the words of a pledge with their right arm outstretched.
A voice over on the video can be heard saying, "The BJP is a communal party which is diving the people of this country on the basis of caste and religion,..therefore I won't vote for BJP."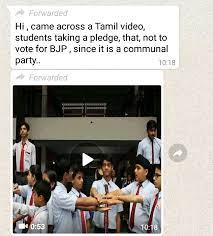 FACT-CHECK
BOOM broke the video into key frames through InVid and analysed it. A reverse image search of few frames throws up a August 27, 2017 video which cites it to the Indore Public School in Indore.
In the original audio students can be heard taking a pledge in Hindi for a Swachh Bharat (Clean India).
The audio of the original video has been swapped with the audio in Tamil, which is a pledge to not vote for the BJP.
BOOM contacted Indore Public School, an official from the school confirmed that the video received on WhatsApp was fake and said that "We do not support any political party, the actual video is on our website which was on a pledge on Swachh Bharat and it is not related to any political party."
The school had posted the original video on August 29, 2017, about two weeks after independence day on its Facebook page with the caption, "New India Pledge".