What Is A No Fly List And Why We Need More Debate On It?
The creation of a No Fly List has several ramifications and is best left in the hands of the airlines than in the hands of the government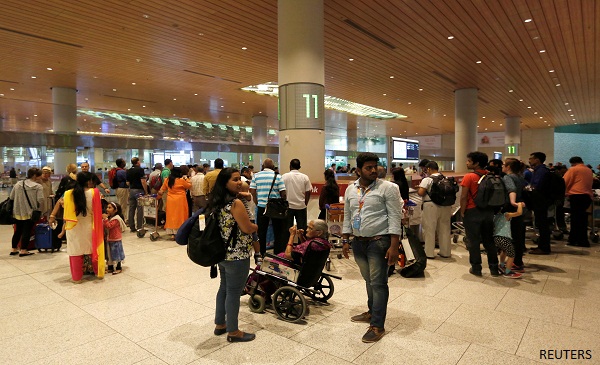 Passengers wait for their luggage at a conveyor belt at the Chhatrapati Shivaji International airport in Mumbai
Will India create a No Fly List to contain unruly passengers like Shiv Sena MP Ravindra Gaikwad? This debate took centrestage after Union Civil Aviation Minister Ashok Gajapathi Raju tweeted about the incident.
We are also working on creating institutional mechanisms to check undesirable flight behaviour or unruly passengers

— Ashok Gajapathi Raju (@Ashok_Gajapathi) March 23, 2017
While this tweet resulted in the speculation of the government's intention to create a No Fly List, Raju's junior minister Jayant Sinha as early as March 9, 2017 in his reply to a question in the Lok Sabha had denied the creation of any such list.
Sinha said, "There is no such proposals in the Ministry," and also informed the house that various airlines have reported 53 cases of unruly passengers threatening the safety of flight or co-passengers from July 2016 to March 9, 2017.
In a rare show of solidarity, several Indian airlines also came out strongly in support of Air India. "Air India and FIA member airlines have decided to ban this Member of Parliament from flying on all our flights with immediate effect. We believe that exemplary action should be taken in such incidents to protect employee morale and public safety,"said the Federation of Indian airlines comprising of IndiGo, Jet Airways, SpiceJet and Go Air.
But there is still confusion among the airlines and aviation experts on how long such a ban can be unilaterally applied.
Aviation regulator Director General of Civil Aviation's guidelines to the airlines issued in 2014 is also silent on whether any passenger can be permanently barred from flying. The guidelines lay out detailed steps to be taken when any airline is confronted with a unruly passenger which also includes the option of barring the passenger from boarding the flight. But there is no mention of any steps that can be taken to prevent the passenger from flying the airline in future (Read here).
The concept of a No Fly List while deemed necessary to make flying safer has its share of critics.
Here is all we need to know about the creation of a No Fly List.
1) What is a No Fly List?
The creation of a No Fly List first came into existence in the United States following the 9/11 terror attacks. The list was one of several measures taken by the U.S. government to combat the threat of terrorism. Maintained by the Terrorist Screening Center (TSC), those placed on the list are not permitted to board an aircraft for travel domestically or internationally away from U.S.
This list is not just limited to terror suspects but also to prevent registered sex offenders and those convicted of trafficking in narcotics from travel by air. According to this Washington Times report, the FBI's no-fly list contains about 81,000 names, but fewer than 1,000 of those are "U.S. persons".
2) Why has the No Fly List come under criticism in the U.S.?
Simply, because its a non-transparent process and civil rights groups have complained about unclear criteria leading to potential abuse often on the basis of race and religion. Many have found themselves on the No Fly List only when they landed at the airport. This Fox News story explains 8 ways you can end up on the No Fly List in the US and the avenues for redressal if you are found on the list are not the easiest to follow.
3) Has it been legally challenged?
Yes, by several people as the system is prone to abuse and subjectivity. Three Muslim men have sued the FBI who they claim have violated their constitutional rights by placing them on the government's no-fly list. These men have claimed that FBI agents put them on the no-fly list to pressure them into becoming informants. They have claimed redressal and compensaton despite being taken off the list in 2013. There are several cases of mistaken identities and the road to clear your name is long winding and tedious, as this column explains in  The Guardian.
4) Why can't we have a No Fly List with proper checks and balances?
Yes, that is possible provided the process is transparent and time bound with strong redressal mechanism for those who find their names on the list. Giving unbridled power to any government machinery to decide a No Fly List can result in persecution as in the case of Greenpeace activist Priya Pillai. The activist was stopped at the Delhi airport and not allowed to travel to London to speak on the alleged violation of forest right of tribals in the Mahan coal block area of Madhya Pradesh.
She was later told that her name was in a database of persons who were not allowed to leave the country. The government had termed her activities anti-national but the Delhi High Court directed authorities to expunge the "offload" remark from the passport of Greenpeace activist Priya Pillai, remove her name from a database and allow her to travel abroad, reports The Indian Express.
5) Can the airlines be allowed to create their own No Fly Lists?
It is possible with several budget airlines in the UK having tried it out to restrain passengers who get drunk and abusive on their flights. But the purpose of having a No Fly List is lost if the airlines fail to co-ordinate with each other. With Aadhaar now becoming mandatory across several services, it cannot be ruled out if airlines decide to come together to develop a common alert system to prevent repeat offenders from boarding their flights.
It will be interesting to see what mechanism the government is working on to create a No Fly List and how it will be administered. Meanwhile Shiv Sena MP Ravindra Gaikwad was forced to travel by train to Mumbai. He will have a lot of time to ponder how he managed the unimaginable feat of uniting an otherwise divided aviation industry.