Old Photo From 2010 Dantewada Attack Resurfaces As Pulwama
The photograph is from an ambush in Dantewada, Chattisgarh nearly a decade ago.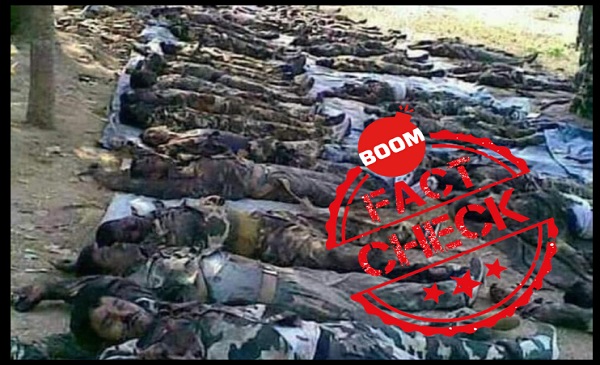 A distressing photo showing rows of bodies of Central Reserve Police Force (CRPF) personnel from the horrific 2010 Dhantewada attack by Maoist has resurfaced on social media as a picture from the recent terror attack in Pulwama, Jammu & Kashmir.
Several tweets and Facebook posts have been doing the rounds, urging people to not celebrate Valentine's Day from next year and remember it as the Martyr's Day or Shaheed Diwas instead.
The posts are accompanied with the graphic photograph of the bloodied corpses of soldiers. A text in Hindi accompanies the tweets.
अब हर साल भाड़ में जाये वैलेंटाइन डे
26/11के तरह 14/2भी शहीदो के नाम से जाना जाएगा ।
See the archived link here.
BOOM ran a reverse image search and found out that the photo, that is being widely circulated as the mortal remains of the slain CRPF jawans, is that of martyred security personnel who were killed in Dantewada, in 2010 by Naxals.
Touted to be one of the worst attacks by the Maoists, 76 CRPF jawans were killed in an ambush on April 6, 2010, at Chiltarnar village, Dantewada, Chhattisgarh. A convoy of CRPF personnels were attacked in the Talemetla forest area by more than 300 Naxals resulting in 76 loss of lives. The soldiers were returning from an operation when the attack took place. News reports on the massacre can be read here and here.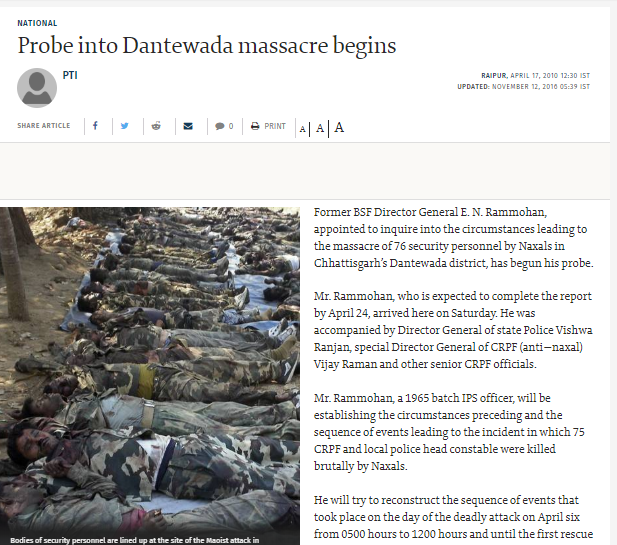 This is not the first time that the massacre's photograph has been used in different context. Earlier, it was used in an Afghani blog, which falsely claimed that the photographs are of Afghan soldiers who were killed in Jawzjan province of Afghanistan.
The photo has also been earlier circulated during the Uri attacks, with a falsified narrative.
Fake images and videos of old and unrelated incidents have flooded social media in the aftermath of the attack in Pulwama. Earlier in the day, the official handle of the CRPF urged netizens to avoid sharing fake and graphic photos of remains of soldiers.
Claim Review :
Photo of row of corpses are of Pulwama attacks martyrs
Claimed By :
Twitter Users