New Rs 1000 Note Released By RBI? Not Quite
The viral images show the thousand rupee note as 'imagined by artists'.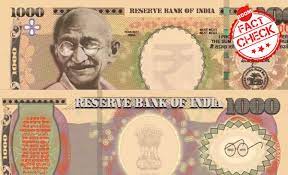 A set of images showing an artist's creation of Rs 1000 currency notes is viral with a false claim that it is the new currency released by the Reserve Bank of India (RBI).
The two images the front and back designs of the currency note with a message that reads, "New Rs. 1000 note released today by RBI."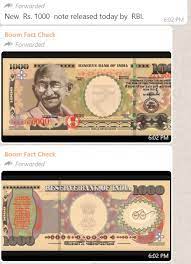 BOOM received the message on its WhatsApp helpline number (7700906111) inquiring about it.
Facebook Post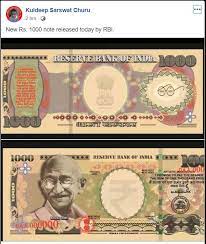 Click here to view, and here for an archive.
Viral on Facebook
We searched with the same caption, and found that the set of images were viral on social media.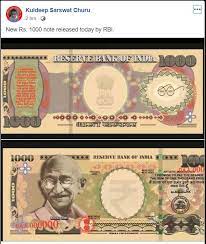 Twitter
New Rs. 1000 note released today by RBI. pic.twitter.com/2MY1psVnD7

— Marthandankasim@gmail.com (@marthandankasim) October 16, 2019
FACT-CHECK
We scrutinised the the notes and found that the notes viral were fake and not released by the RBI.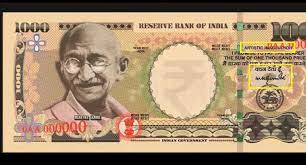 On the top right corner of the image, one can see 'Artistic Imagination' written on note, indicating that it was not the official currency.
Below the line 'I promise to pay a thousand rupees to the holder', the currency note carries a signature of Mahatma Gandhi instead of the current RBI governor Shaktikanta Das.
Additionally we checked the RBI website and did not find any recentnotification about newly issued Rs 1000 notes.
Shaktikanta Das, the then Economic Affairs Secretary and now RBI Governor had in February 2017 tweeted, "No plans to introduce ₹1000 notes. Focus is on production and supply of ₹500 and lower denomination notes."
The story will be update once we receives a response from RBI.
BOOM has debunked misinformation surrounding the banking sector in the wake of the PMC Bank crisis. (Thread below)
Also Read: ₹2000 Note To Be Discontinued From Oct 10? WhatsApp Forward Is A Hoax
Claim :
Image Shows New Rs 1000 Note Released By RBI
Claimed By :
Facebook Posts