Hoax: Old News Of Plastic In Snickers Chocolate Bar Resurfaces
An old video from 2016 is being shared as 2018. Mars Inc tells BOOM the messages are a hoax.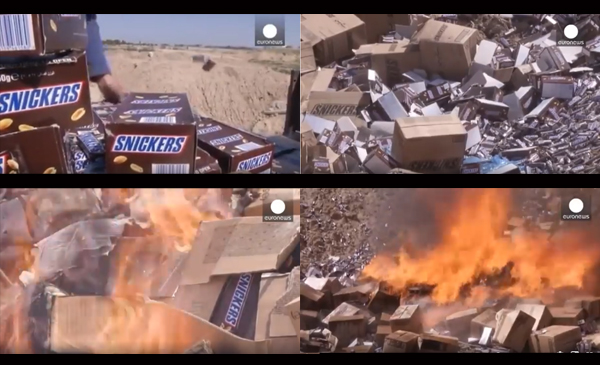 CLAIM: Plastic was found in Snickers chocolate bars. Countries are getting rid of faulty batches by burning stocks.
RATING: False
FACT: This is a hoax. The video is from 2016 when Hamas authorities in Gaza burnt 15 tonnes of Snickers chocolate bars following a recall by the manufacturer Mars that year.
A two year old video from Gaza by euronews showing tonnes of Snickers bars being set on fire in a large pit is being shared on Facebook as a recent event in 2018.
The post seems to have originated from several clickbait Facebook pages that advise against buying the chocolate. A post from Facebook page 'Philippine Most Trending' garnered over one million views.
<

The spurious message is now finding its way to other pages in India and Pakistan.
BOOM found the original video dated March 10th, 2016 by euronews through a Google search.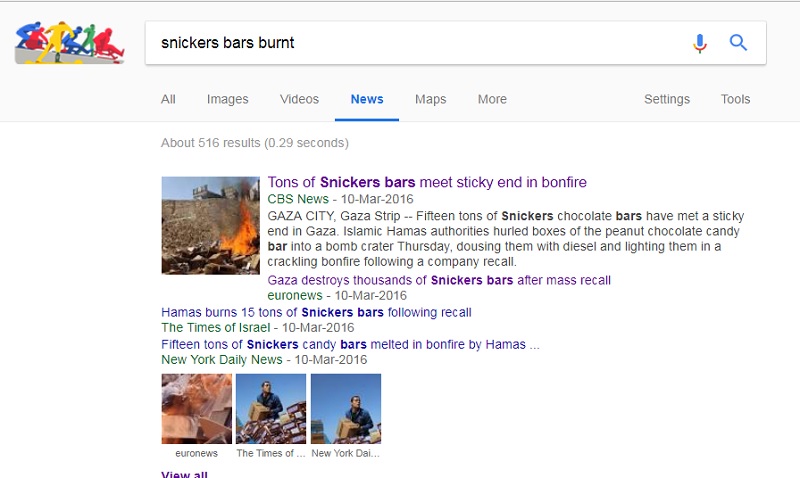 Euronews's story (see screenshot below) is dated March 10, 2016. Click here to view the article.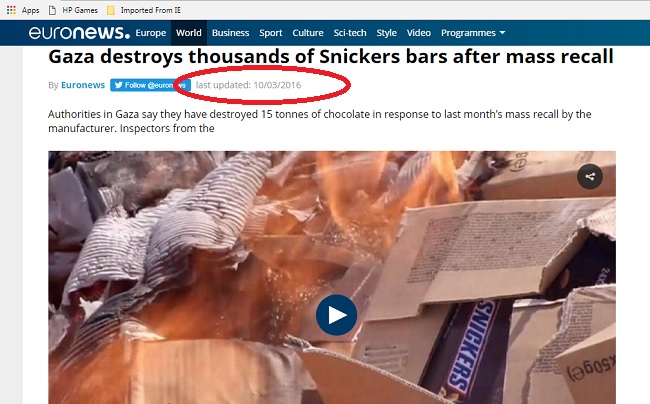 BOOM also reached out to global confectionery manufacturer Mars Inc, the maker of Snickers chocolate bars. The company confirmed that this was indeed a hoax. The company also said the recall in 2016 only concerned specific products and a limited production period between December 5, 2015 to January 18, 2016.
"Please be assured this was an isolated incident in 2016 relating only to some SNICKERS made in The Netherlands. Mars made a precautionary decision to voluntarily recall a selection of chocolate products produced in our Netherlands factory. The recall concerns only specific products during a limited production period; December 5, 2015 – January 18, 2016. No other varieties of chocolate, pack formats or bar sizes were affected and no products manufactured at any other location were impacted," Mars said in an emailed response to BOOM.
In February 2016 the company had recalled chocolate bars and other products in 55 countries, mainly Europe, as a precaution to avoid customers choking, after a piece of plastic was found in a Snickers bar in Germany. See Reuters' story from 2016.