French President Macron Dancing With His Wife 23 Years Ago? A FactCheck:
BOOM found that the viral clip was from a 2016 episode of the popular US dance show 'So You Think You Can Dance'.
A clip of a boy dancing with a young woman is being shared with the false claim that it is a 23 year old video showing French President Emmanuel Macron with his wife Brigitte Macron.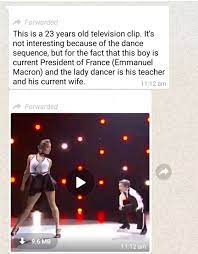 BOOM received the video on its WhatsApp helpline number (7700906111) inquiring about it.
Facebook Post
The same video is viral on Facebook with the caption, "This is a 23 years old television clip. It's not interesting because of the dance sequence, but for the fact that this boy is current President of France (Emmanuel Macron) and the lady dancer is his teacher and his current wife."
Click here to view the post, and here for an archive.
Viral on Facebook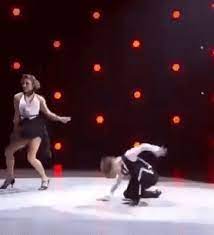 FACT-CHECK
Clip from So You Think You Can Dance
We broke the video into keyframes and the search results showed that the video clip was taken from a American dance show named 'So You Think You Can Dance' in 2016.
The viral clip has been has been clipped from 16 seconds to 1.13 seconds timestamp. The performers in the clip are Jake Monreal, (small boy) and Jenna Johnson (young woman).
Clip From So You Think You Can Dance Season 13
The song to which Monreal and Johnson are dancing to is Toca Toca by Fly Project that was released in 2013.
The episode was aired in 2016 on Season 13 of You Think You Can Dance in 2016, so the clip is not 23 years old as claimed in the viral post.
Viral on popular meme site 9GAG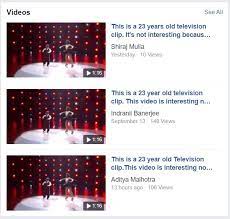 The viral clip was also posted on 9GAG, a popular online platform for sharing humorous memes, gifs and videos with the caption, "Macron and his wife at the first date. in July 2017"
Macron and Bridget Age Gap
The 25 year age gap between French President Macron (41) and his wife Brigitte Macron (66) has led to several sexist jokes being targeted towards the couple.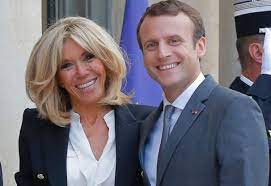 Claim Review :
23 Years Old Television Clip Of Boy Who Is Current President Of France, Emmanuel Macron And The Lady Dancer Is His Then teacher And Current Wife.
Claimed By :
Facebook Posts