Fact Check
Cadbury Chocolates Contaminated With HIV?: We Tell You Why It's Fake
An old hoax targets Cadbury. Read our factcheck to know how we debunked this viral message.
CLAIM: A worker adulterated Cadbury products with HIV infected blood.
RATING: False
FACT: The message is a rehash of an old hoax. The handcuffed man being taken away by Interpol officers is a Nigerian terrorist.
A viral message on social media urging people to avoid buying Cadbury products for the next few weeks as a worker 'infected' the confectioner's products with HIV (AIDS), is a hoax.
The message, which is accompanied by a picture of a man being taken into custody by Interpol police, reads, "This is the guy who added his infected blood Cadbury products. For the next few week(s) do not eat any products from Cadbury, as a worker from the company has added his blood contaminated with HIV (AIDS). It was shown yesterday on BBC News. Please forward this message to people who you care (about)."
A spokesperson for Mondelez in India, the company that makes Cadbury chocolate bars, confirmed to BOOM that the post was fake.
"The post you refer to is a hoax and there is no truth in it. It's fake news. The person whose photograph is shown in the post has never worked /does not work for Mondelez. False and baseless posts like these are damaging for well-respected and loved brands. We call upon our consumers to please verify facts related to Mondelez products before sharing them further."
Below are the steps followed by BOOM to debunk the message, but first -a fact about how HIV or the Human Immunodeficiency Virus spreads.
HIV can only be transmitted through an exchange of body fluids from infected individuals. According to the World Health Organisation (WHO), "HIV can be transmitted via the exchange of a variety of body fluids from infected individuals, such as blood, breast milk, semen and vaginal secretions. Individuals cannot become infected through ordinary day-to-day contact such as kissing, hugging, shaking hands, or sharing personal objects, food or water."
TRACING THE IMAGE
A simple Google search for 'Cadbury HIV blood' shows that the message has already been debunked by various sites including fact-checking sites such as Snopes and AfricaCheck.

BOOM did a Google Reverse Image search to find the man in the photograph. A search for the entire post did not yield any useful result. However, when we cropped the photo and looked for the part with the man in it we found the following. The exact same photo has been used in a hoax involving Pepsi. (Click here to read the factcheck)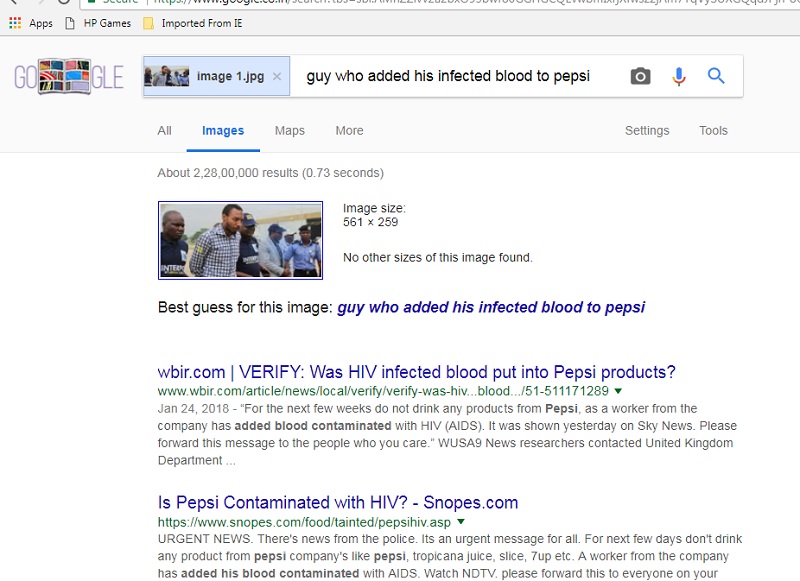 We also searched for his photograph on TinEye.com; which led us to a Nigerian website 'https://www.informationng.com' which had the same photo as well as other photos from the incident. (see pic below)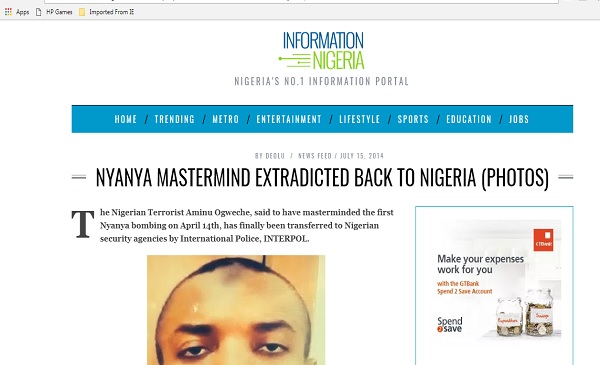 Here's another photograph from the same day showing a 'Nigerian Air Force' aircraft in the background.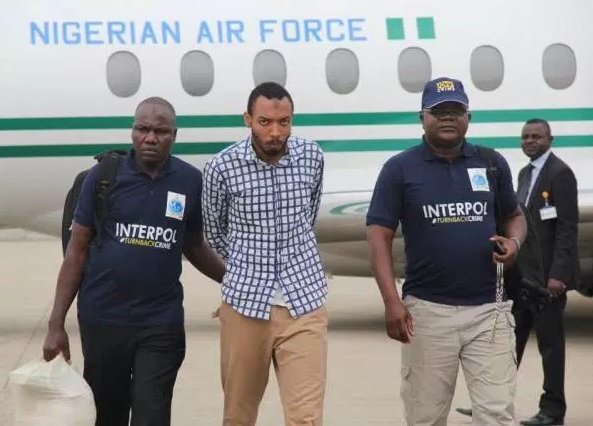 The man being taken into custody is Aminu Ogwuche. Ogwuche was extradited to Nigeria from South Sudan in July 2014. He is accused of masterminding a bombing on a bus park in Nyanya, in Abuja Nigeria in April,2014.
Below is a 2014 tweet from the official handle of the Nigerian Armed Forces.
Ogwuche, the Nyanya Bombing Mastermind was received at the Abuja Airport 3:150PM today, Now in Nigerian Security Custody #CounterInsurgency

— DEFENCE HQ NIGERIA (@DefenceInfoNG) July 15, 2014
HIV+WORMS = NONSENSE HOAX
A variation of the message in India includes photos of a bar of Cadbury with what appears to be worms. Though it is not clear how anyone could have drawn a link between HIV and worms. Below is the message that BOOM received from a reader on our WhatsApp Helpline.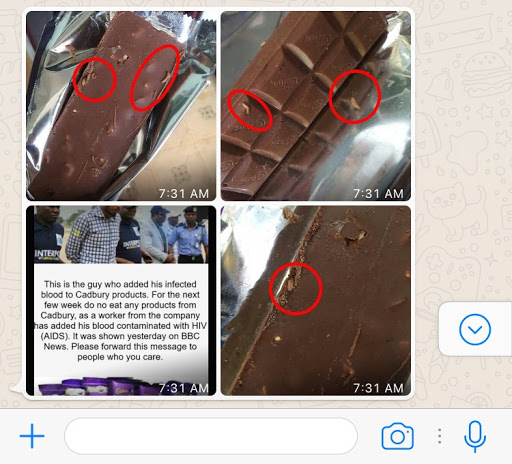 We followed the same search process and traced the images to an Indonesian Facebook page called 'Viral Media Johor'. The post dates back to February 19, 2018 weeks before the photos went viral in India. It is important to note that in the video the chocolate wrapper appears to have been opened already. The photographs purporting to show a chocolate bar infested with worms are not from India.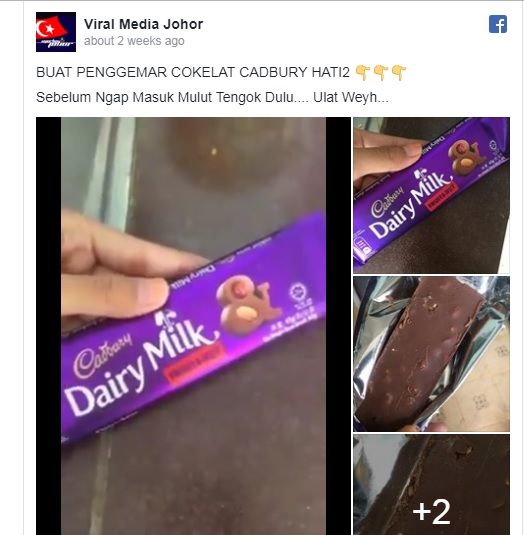 "The damaging post /WhatsApp in question clubs together several unrelated photographs available on the internet leading the viewer to believe that our product is unsafe. This is a hoax and there is no truth in it making the post fake and baseless. In fact the product pack in question doesn't even relate to the Indian market," Mondelez's India spokesperson told BOOM.
CADBURY'S PAST WORRIES:
In October 2013, Cadbury was fire fighting a full blown PR crisis over reports of worm infestations in its flagship Cadbury Dairy Milk brand in some shops in Maharashtra and Kerala. The company launched 'Project Vishwas' a multi-pronged strategy that included educating retailers on how to store Cadbury's products. Cadbury announces strategy for ensuring quality - The Hindu
(This story has been updated to include responses from Mondelez's India spokesperson)
Checkout how BOOM debunked the Cadbury hoax.
https://www.sharethefacts.co/share/3b276b04-6f9c-41b4-b789-3d4ee8213ed6
Claim :
A Worker Adulterated Cadbury Products With HIV Infected Blood
Claimed By :
Social Media
Do you always want to share the authentic news with your friends?
Subscribed Successfully...
Enter Valid Email Id