AirAsia QZ-8501 Located In The Java Sea, No Survivors Found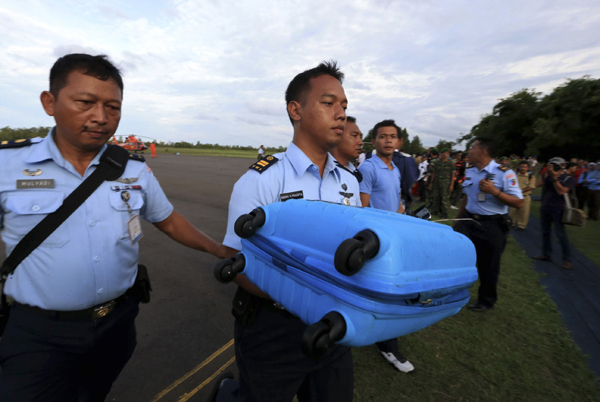 Air force personnel carry luggage presumed to be from missing Indonesia AirAsia flight QZ 8501 recovered from the sea at Pangkalan Bun (Credit: Reuters)
Rescue teams have retrieved several bodies and debris from the AirAsia flight QZ-8501, that went missing on December 28th, off the coast of Borneo.
Bambang Soelistyo, the head of Indonesia's National Search and Rescuae agency said, 'More bodies had been recovered from the Java sea on Dec 31st including a woman in flight attendant's uniform'. Indonesian Navy spokesman told The New York Times that a plane door and oxygen tanks were also recovered. A Blue colour suitcase, an aspirator assembly and a reservoir slide craft in particular have confirmed to rescue officials that this is Flight QZ-8501.
The cause of the plane crash is still not known and the search for the black box is on.
QZ-8501 took off at 05:24 am Indonesian local time and lost contact with air traffic control in Singapore an hour before it was expected to land. The pilots had asked for deviation in the flight path due to bad weather conditions. The Indonesian air transport director said that they had requested for an increase in altitude from 32,000 feet to 38,000 feet to avoid cloudy weather. According to flight tracking website Flighttrader24, AirAsia was flying at the regular altitude of 32,000 feet when it lost contact.
There were 155 passengers on board, including 138 adults, 16 children and an infant, AirAsia said. The crew included 2 pilots and 5 cabin staff.
​Flight information signboard shows status of missing AirAsia flight QZ-8501 (Credit: Reuters)
AirAsia has announced an emergency number for distressed families and relatives. The number is +622 129 850 801.
Singapore aviation authority said Jakarta Ground control was informed about missing plane about half an hour after the contact was lost. Search operations are ongoing by Indonesian Authorities and Singapore Air Force and Navy also were activated with two C-130 planes.
AirAsia, which is a low budget airliner and has a monopoly of low cost travelling in this region for years, has never lost an airliner before.
​AirAsia aircraft model seen on track at Sepang Airport (Credit: Reuters)
Bambang Soelistyo, Head of Indonesia's search-and-rescue agency has said that the missing AirAsia flight QZ8501 is likely to be at the bottom of the sea, based on the radar information after the plane lost contact.
News agency Associated Press quoted an Indonesian official saying that objects were spotted in the sea near Nangka Island but it is still unclear if they belong to the missing airliner. Hadi Tjahnanto, Indonesia air force spokesman said, "Search operations resumed on Dec 29th morning. They were being focused on an area where an oil spill was spotted but it was not clear if it was caused by the airliner."
So far, Indonesia has contributed 12 ships, 10 boats and 2 helicopters in the search operation. Malaysia and Singapore are supplementing the efforts. China has also offered to send planes and ships for search operations.
This is the third passenger aircraft out of Malaysia this year to have met with misfortune.
​Military and rescue authorities monitor progress in the search for AirAsia Flight QZ8501 inside the National Search and Rescue Agency in Jakarta on Dec 29th, 2014 (Credit: Reuters)