Who Compromised Data Of App, Website Users? BJP, Congress Spar On Twitter
When it comes to data, the devil is in the detail. The BJP and Congress find out the hard way as hackers and social media expose potential vulnerabilities in their apps.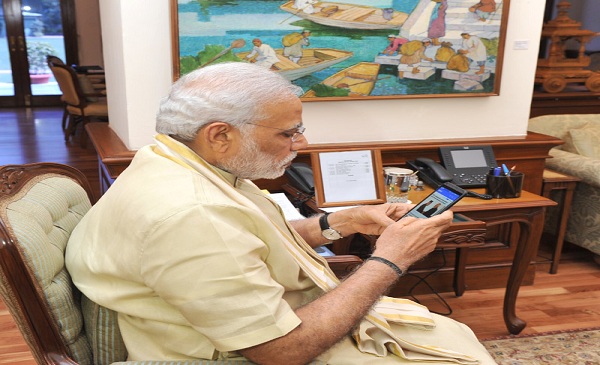 The Bharatiya Janata Party (BJP) and Congress were locked in an ugly war of words on Twitter over the manner and usage of user data extracted through apps created by their respective parties.
In a fallout of the Cambridge Analytica- Facebook fiasco, both parties have accused each other of manipulating data to influence voters in India. Both parties have been targeting each other over the past week with hashtags such as 'DataChorCongress', 'DeleteNaMoApp' and 'DeleteCongressFakeNews'.
French vigilante hacker who goes by the pseudonym 'Elliot Alderson' created a stir online when he tweeted that the official Narendra Modi app collects data from its users without their consent and sends it to a third party company in the U.S.
When you create a profile in the official @narendramodi #Android app, all your device info (OS, network type, Carrier …) and personal data (email, photo, gender, name, …) are send without your consent to a third-party domain called https://t.co/N3zA3QeNZO. pic.twitter.com/Vey3OP6hcf

— Elliot Alderson (@fs0c131y) March 23, 2018
The French hacker, who has gained a wide following in India on Twitter for exposing several security flaws in India's unique identity project Aadhaar, aslo tweeted his correspondence with the developers of the NaMo app.
One minute after my post on @narendramodi's #android app, the "App team" created a new Twitter profile to discuss with me. We had a nice discussion. In order to be fair, here their first answer. pic.twitter.com/4JbdoSefpt

— Elliot Alderson (@fs0c131y) March 24, 2018
Following this, the privacy policy of the NaMo app was quietly changed to say certain information might be processed by third parties. (Click here to read the revised policy)
After the NaMo #android app exposé yesterday, the privacy policy of @narendramodi has been change quietly. The cached version is accessible here https://t.co/K7Uz5mUsR1

— Elliot Alderson (@fs0c131y) March 25, 2018
Congress President Rahul Gandhi took aim at Prime Minister Narendra Modi and mainstream media for downplaying an important story.
Hi! My name is Narendra Modi. I am India's Prime Minister. When you sign up for my official App, I give all your data to my friends in American companies.

Ps. Thanks mainstream media, you're doing a great job of burying this critical story, as always.https://t.co/IZYzkuH1ZH

— Rahul Gandhi (@RahulGandhi) March 25, 2018
In response the BJP's official Twitter handle retorted accusing Gandhi of having 'zero knowledge of technology' and accused his party of fear mongering.
Rahul Gandhi truly shows why he and his party have zero knowledge of technology. All they can do is scare the masses about technology while they continue to steal data using his 'Brahmastra' of Cambridge Analytica.

— BJP (@BJP4India) March 25, 2018
In a series of tweets the party explained that it was used analytics similar to Google Analytics in order to show users the most relevant content to them.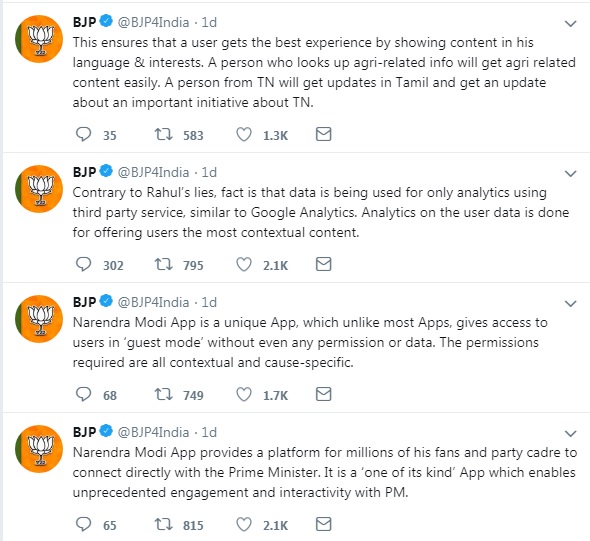 Meanwhile, the vigilante hacker has turned his attention to the Congress party's now deleted app on the Android app store. The hacker has alleged that the Congress party has its servers in Singapore while poorly encrypting data on its app.
When you apply for membership in the official @INCIndia #android #app, your personal data are send encoded through a HTTP request to https://t.co/t1pidQUmtq. pic.twitter.com/6RH0ORYrQd

— Elliot Alderson (@fs0c131y) March 26, 2018
The IP address of https://t.co/t1pidQUmtq is 52.77.237.47. This server is located in Singapore. As you are an #Indian political party, having your server in #India is probably a good idea. pic.twitter.com/tbspCtOPfB

— Elliot Alderson (@fs0c131y) March 26, 2018
Divya Spandana who heads the social media and digital communications team of the Congress has claimed that the app has been defunct for a while now and that membership to the party is through its website.
The URL for membership on the INC app has been defunct for a while now. Our membership is through the INC website. How difficult is that to understand- https://t.co/UbS5vrTcNL

— Divya Spandana/Ramya (@divyaspandana) March 26, 2018
Spandana is now sparring with Amit Malviya who heads the BJP's information and technology cell as both parties accuse each other of hypocrisy and doublespeak on data privacy.
Forget sharing, we don't collect any data through the App. What a dimwit @malviyamit https://t.co/geq5YdlpQY

— Divya Spandana/Ramya (@divyaspandana) March 26, 2018
Rahul Gandhi gave a call to #DeleteNaMoApp, but Congress deleted its own App from the App store after they were called out. What is the Congress party hiding? pic.twitter.com/nAJTDAMmoc

— Amit Malviya (@malviyamit) March 26, 2018