Were Rahul Gandhi's Mansarovar Yatra Pics Taken From Google?
Right wing supporters allege Rahul Gandhi picked Kailash Mansarovar images from Google or to have purchased them. But provides no proof.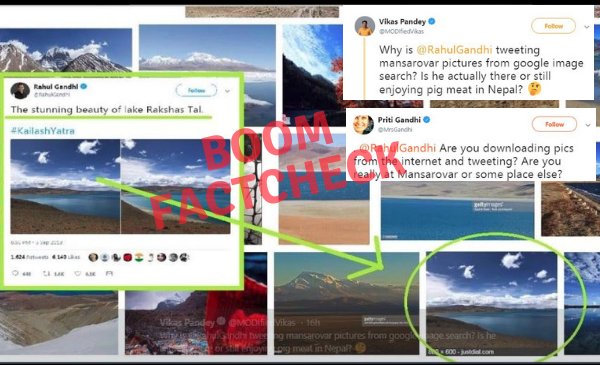 Congress President Rahul Gandhi's Kailash Mansarovar Yatra continues to attract fresh controversies. Even before he started the pilgrimage, the Bharatiya Janata Party first called him 'Chinese Gandhi' and later accused him of eating non-vegetarian food at a restaurant in Nepal. Now, BJP's IT cell members including Social Media In-charge of BJP's Mahila Morcha Priti Gandhi and Vikas Pandey claimed that Gandhi has posted Google images of the yatra and that he is not at Mansarovar.
The image of Rakshas Tal tweeted by Gandhi on September 5, 2018 was caught on by them to make the claim.
The stunning beauty of lake Rakshas Tal.#KailashYatra pic.twitter.com/GXYsR4hjAT

— Rahul Gandhi (@RahulGandhi) September 5, 2018
They used the same illustration to show the image was picked from Google.
. @RahulGandhi Are you downloading pics from the internet and tweeting? Are you really at Mansarovar or some place else? pic.twitter.com/mkQuCJiXA2

— Priti Gandhi (@MrsGandhi) September 5, 2018
Why is @RahulGandhi tweeting mansarovar pictures from google image search? Is he actually there or still enjoying pig meat in Nepal? 🤔 pic.twitter.com/O7vnf7UMqA

— Vikas Pandey (@MODIfiedVikas) September 5, 2018
The illustration shows that the image they have pointed out on Google is from domestic search engine Just dial.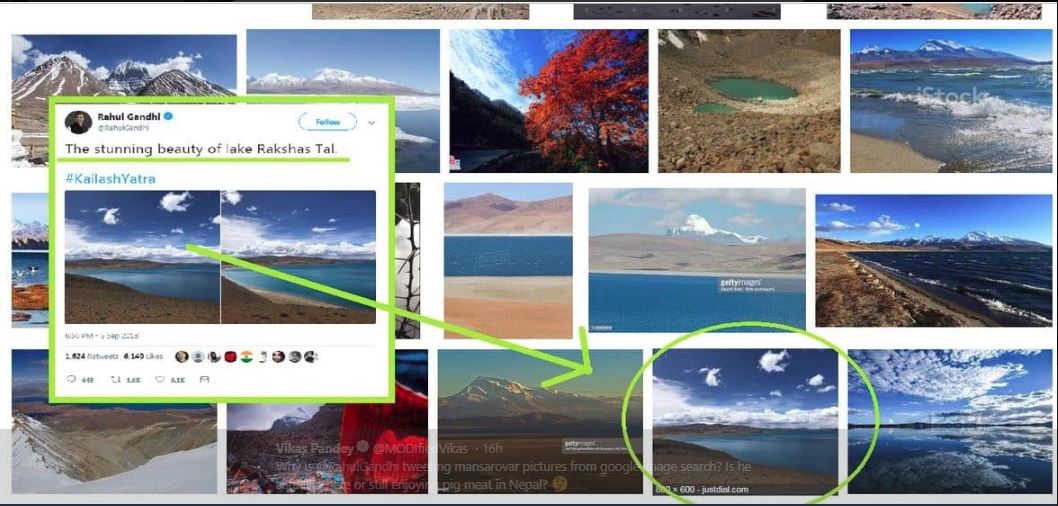 Upon clicking on the image, we are directed to Just dial Social which has the same image linked to Gandhi's September 5th tweet.
To narrow down the search, we typed 'Rakshas Tal Lake Just dial' and also limited the search up to September 4, 2018, a day before Gandhi's tweet. This was to check if the image existed before. However, the search did not throw any results.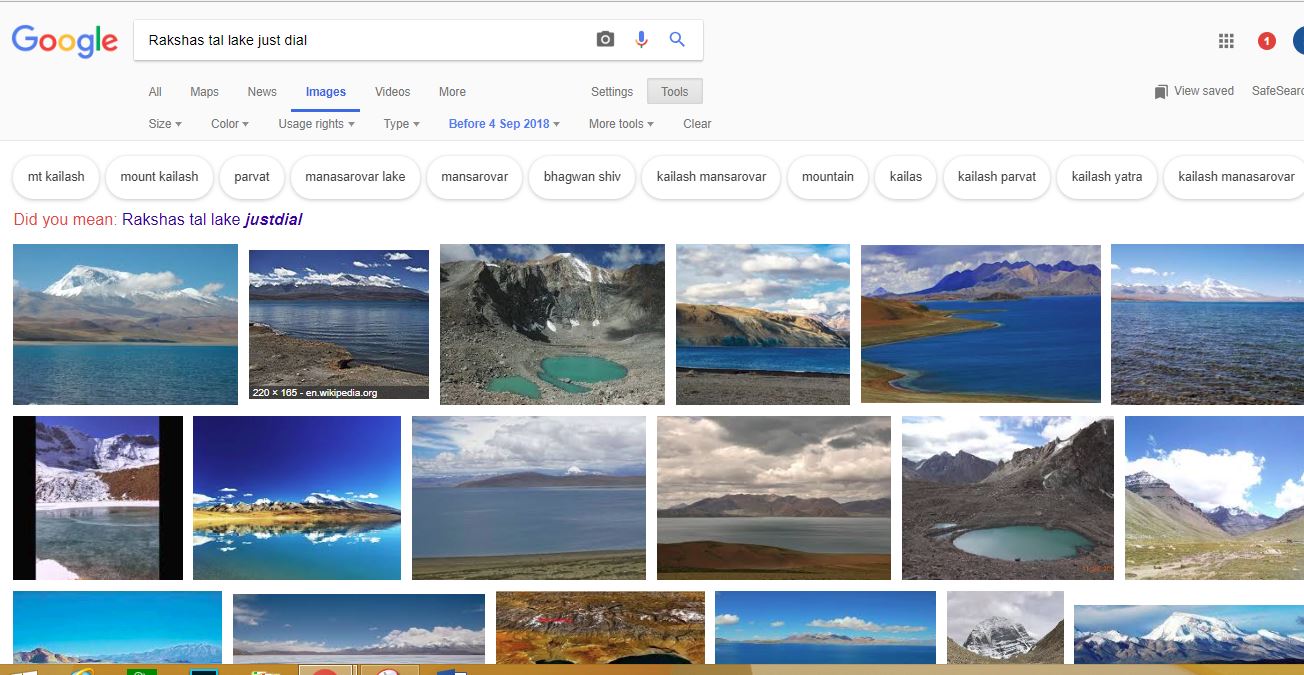 The same image can be found on Gandhi's Instagram account as well from September 5, 2018.
After being called out, Vikas Pandey took it further on Twitter to claim that Gandhi's team purchased the image to post on his account. He shared an image by a website Earth Tripper to claim similarities with the one shared by Gandhi. However, he did not provide any conclusive evidence to back his claim of the images being purchased by the Congress social media team.
RG's team tweeted from same set of pic this website guy baught from. Same pic just minutes apart (apart from little cloud movement, everything else like angle, location, time of the day and even grass is same)
https://t.co/CA4faDRGV6 pic.twitter.com/C9rgwJ2pSv

— Vikas Pandey (@MODIfiedVikas) September 5, 2018
Ya it's preclicked (and bought) pic at best. This below pic in another website taken may be 1-2 min gap. Same angle, same location. Just compare. pic.twitter.com/qIE0BjDmJh

— Vikas Pandey (@MODIfiedVikas) September 5, 2018
The claim was taken forward by the party's social media army. Postcard founder Mahesh Vikram Hedge also tweeted the same.
Why Rahul Gandhi tweeting pictures off the internet?

Is he somewhere else and pretending to be in Mansarovar? pic.twitter.com/tuMC7Qdb9E

— Mahesh Vikram Hegde (@mvmeet) September 5, 2018
These images are from google tweeted from Delhi.

Otherwise @RahulGandhi is the only person on this planet who is getting 3G signal at Mansarover https://t.co/SXHVluYCU2

— #GauravPradhan 🇮🇳 (@DrGPradhan) September 6, 2018
So, @RahulGandhi has posted Google images of Kailash Mansarovar

RT if you wish to see real images (with his pic included) from him pic.twitter.com/Sht71Nilsh

— History Of India (@RealHistoriPix) September 5, 2018
BOOM spoke to Hasiba Amin from the Congress social media team who refuted the charge. Amin claimed that Rahul Gandhi has tweeted on his own and not by the party's social media team.
(BOOM is now available across social media platforms. For quality fact check stories, subscribe to our Telegram and WhatsApp channels. You can also follow us on Twitter and Facebook.)
Claim Review :
Rahul Gandhi Is Tweeting Pictures Of His Mansarovar Yatra Picked From Google
Claimed By :
Social Media