Was Mumbai Journalist Nitika Rao Attacked For Questioning The Government?
BOOM spoke to Nitika Rao who said that she was beaten by goons sent by a builder and not for questioning the government.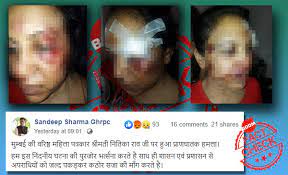 A set of photos of a grievously injured woman are viral on social media with claims that she is a Mumbai based journalist Nitika Rao who was attacked for questioning the government about the missing Indian Air Force aircraft.
BOOM traced the woman who said that she was assaulted by goons contracted by a local builder as she was defending the rights of a group of farmers in Kalyan, an area in Maharashtra's Thane district.
Speaking to BOOM, Rao refuted social media claims that she was attacked while reporting on an assignment. She claimed that the attack sparked because of her work as a social worker and not as a journalist.
Since June 9, disturbing photos of an injured Rao with a caption in Hindi claiming she was attacked for questioning the government started going viral.
NOTE: The below pictures are graphic in nature.
Many posts asked the ruling Bharatiya Janata Party and Prime Minister Narendra Modi to take action against the assailants claiming that Rao was attacked by right wing activists.
The Punjab and Chandigarh Journalists Union also condemned the post via a Facebook post.
WHO IS NITIKA RAO
BOOM looked for Rao on Facebook, LinkedIn and Twitter but could not find any journalist by that name in Mumbai or in any other city.
A Facebook search in Hindi for 'नितिका राव' led us to a post from 2017 on a page called 'Bihar News Express.Suresh Gupta.' The post claimed that the Akhil Bharatiya Patrakar Suraksha Samiti (All India Journalists Protection Council) was felicitating a journalist named Nitika Rao after she was made the head of the Maharashtra wing of the Council.
Upon finding similarities in the facial features of the woman in the above post and the viral photos, BOOM got in touch with Sayyed Khaled Kais, general secretary of the Samiti who confirmed that Rao who heads their Maharashtra wing was attacked a few days ago.
BOOM then got in touch with Rao who spoke to us from a hospital in Kalyan, Thane district. Rao said, "I was assaulted by the goons of a builder four days ago. The viral photos on Facebook are mine but I was not attacked for questioning the government about missing airplanes."
Rao added that she is currently a freelance journalist and a social worker in Kalyan area on the outskirts of Mumbai.
"I was fighting for the rights of a group of farmer in Kalyan who had been promised compensation by the owner of a building construction company. But after acquiring land, he refused to pay and was trying to scam the farmers. So I was defending the farmers' rights and had also confronted the builder. Four days ago, he sent his goons who attacked and beat me,"she said. Rao said that she suffered severe injuries on her face and hands.
Rao refused to give any details about the builder and declined to comment if she filed any complaint with the police.
BOOM also found a post shared by a Abdul Mahfooz Khan on June 8 about the incident. Khan, the National General Secretary of the Samiti was one of the first to share Rao's photos after the incident.
In a comment on the post, Khan replies in Hindi with details about the incident and says, "This incident is about farmers getting compensation from builders for which Nitika madam was also offered a bribe but she persisted just so that farmers could get compensation. But the builder did this to her."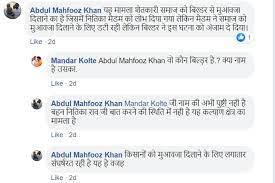 An Indian Air Force aircraft An-32 with 13 people on board went missing on June 3. The plane was spotted in Arunachal Pradesh on Monday, eight days after it went missing. More details about what happened to the aircraft are yet to emerge.
The wreckage of the missing #An32 was spotted today 16 Kms North of Lipo, North East of Tato at an approximate elevation of 12000 ft by the #IAF Mi-17 Helicopter undertaking search in the expanded search zone..

— Indian Air Force (@IAF_MCC) June 11, 2019
Claim Review :
Journalist Nitika Rao Beaten For Questioning The Government
Claimed By :
Social media