Was Jagan Mohan Reddy Blessed Only By Christian Priests While Taking Oath?A Fact-Check
BOOM found that the newly sworn in Chief Minister of Andhra Pradesh was blessed by Hindu,Muslim and Christian religious leaders.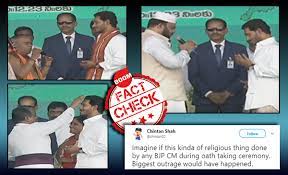 A video from the new Andhra Pradesh chief minister Jagan Mohan Reddy's oath taking ceremony has been clipped and shared with a misleading claim that he excluded other religions.
The 2.20 minute video has been clipped from the hour long swearing-in ceremony of Reddy held on Thursday at Vijaywada. Reddy who heads Yuvajana Sramika Raithu Congress Party (YSRCP) won by a majority in the state of Andhra Pradesh and was sworn in as the Chief Minister of the state on Thursday.
The edited clip was tweeted with a caption, "Imagine if this kinda of religious thing done by any BJP CM during oath taking ceremony. Biggest outrage would have happened."
The post is on Facebook too with the same caption.
Click here for the archived version of the Facebook post.
FACTCHECK
BOOM found various news outlets reporting that an "all religion prayer was held on stage" for Reddy.
NDTV in its live update of the oath taking ceremony reported, "Christian, Islamic and Hindu prayers were recited by priests on stage as Jagan prayed after formally taking up the top job."
The Hindu reported at 12.40 pm, "All-faith prayer meet starts. Religious leaders from Hinduism, Islam and Christianity read prayers seeking bountiful rain."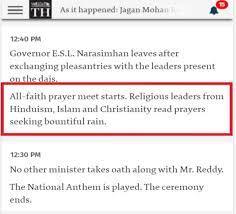 BOOM also found videos from the ceremony streamed live on YouTube. The live streaming by the YSRCP's official YouTube channel shows that first a church pastor blesses Reddy, followed by Muslim religious leaders and then Hindu priests. All three of them chant prayers and bless Reddy and his mother standing beside him,
At 10.20 minute in the video, two Church of South India (CSI) pastors can be seen on the stage, greet Reddy and then reciting prayers. At 18.01 in the video, two Muslim priests come to the stage and bless Reddy and recite a few lines from the Quran. They are followed by two Hindu priests who can be seen on stage at 22.03. The Hindu priests present Reddy with a shawl and then chants prayers and bless him.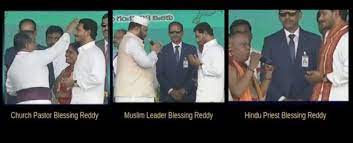 Reddy was recently target of another fake news wherein old photos of him at Rishikesh were shared with a false caption that he has converted to Hinduism. YSRCP spokesperson had denied the claim and told BOOM that Reddy, "is a true believer of Jesus". Read the fact-check here
Claim Review :
Jagan Mohan Reddy Blessed Only By Christian Priests
Claimed By :
Facebook post