Viral Photo Of Manoj Tiwari Bursting Fire Crackers Is From 2014
BOOM found that the photo is from 2014 when Manoj Tiwari was celebrating Chhath puja.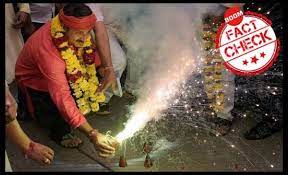 A 2014 photo of Manoj Tiwari, chief of Bharatiya Janata Party's Delhi wing bursting crackers on the occasion of Chhath puja is being shared as recent.
The viral photo of Tiwari who is also a Loksabha MP is being shared with a caption in Hindi that translates to, "This is Manoj Tiwari - Member of Parliament - North East Delhi. Busyin bursting crackers, he has no shame for the current situation in Delhi. It is shameful that the people of Delhi have chose such a person as an MP."
(Original text in Hindi -ये है - मनोज तिवारी, सांसद - उतर पूर्वी दिल्ली. मशगूल है पटाखे चलाने में, दिल्ली की इस हालात पर इन्हें बिल्कुल भी तरस नहीं आता. शर्म आती है ये कहते हुए की दिल्ली की जनता ने ऐसे व्यक्ति को ऐसा सांसद चुना है)
The capital of the country, Delhi is battling severe air pollution levels with a public health emergency declared in Delhi NCR region. The Supreme Court also pulled up the Delhi government and the Union government for the rising pollution levels as Chief Minister Arvind Kejriwal informed the National Green Tribunal that the actions taken by the state to tackle the problem were "deficient".
FACT CHECK
A reverse image search on the photo led us to results in news stories from 2014 about Tiwari bursting crackers on the occasion of Chhath puja after it was declared a public holiday in Delhi.
A photo in Outlook published on October 28, 2014 credits PTI for the photo and is captioned as, "BJP MP Manoj Tiwari burns crackers as he celebrates with Purvanchalis after declaration of Chhath puja as a public holiday in Delhi."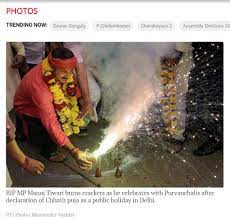 The same photo was published on October 29, 2014 in The Pioneer, titled, "Chhath Puja now a public holiday!"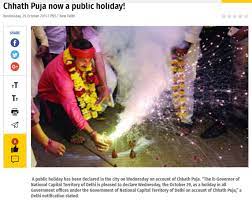 BOOM also looked for news reports and tweets about Tiwari celebrating Diwali by bursting crackers but found no such article. Tiwari on his Twitter account posted a video of him lighting 200 earthern lamps in Delhi's unauthorised colonies that are set to get legal status.
The video shows Tiwari holding a sparkler while lighting the earthern lamps. BOOM was not able to independently verify if Tiwari burst noisy firecrackers on the occasion of Diwali this year.
Tiwari had in October this year distributed face masks in areas of Delhi as a mark of protest against the Kejriwal government. In 2018, Tiwari posed wearing a face mask as part of the #Mask4Life campaign initiated to, "unmask the apathy and deepest neglect by AAP govt. "
Claim Review :
Manoj Tiwari bursting firecrackers in Delhi to celebrate Diwali
Claimed By :
Social media posts