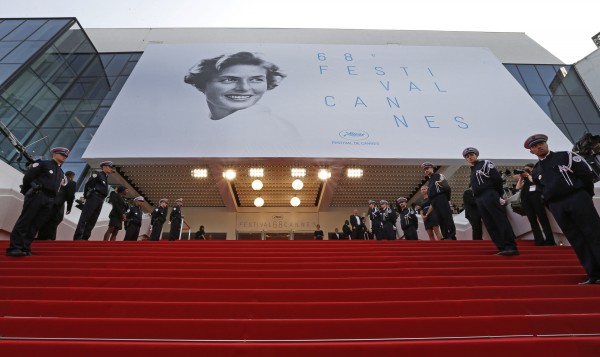 The Cannes film festival celebrates the best films in the world and shows where the uniquely technical and commercial art of cinema is headed.
Attending the world's largest film festival is first and foremost about reaffirming the fact that cinema is mankind's most potent art form. To discover new filmmakers, to see fresh work from the masters, to catch conversations about cinema, to see the stars on the red carpet, is a privilege that can be experienced only by being there. But the real joy for a film buff lies in the massive auditoriums of the Palais des Festivals. Here huddled in the dark a global audience drops the barriers of language, economics and politics and surrenders to the magic of the movies.
In my ten days at Cannes I saw 42 films. My personal pick and discovery this year - the Hungarian feature, 'Son of Saul' by debutant László Nemes, who went on to win the Grand Prix. The film is about a 'Sonderkommando', a unit of Jewish prisoners who delay the inevitable, by helping their Nazi captors with daily prison chores. One of the members of this group tries to find a Rabbi to bury a young boy with dignity amongst the chaos and deaths caused by gunshots and gas chambers. Many movies have been made about the Holocaust but 'Son of Saul' is easily one of the most outstanding and it made a deep impact on me.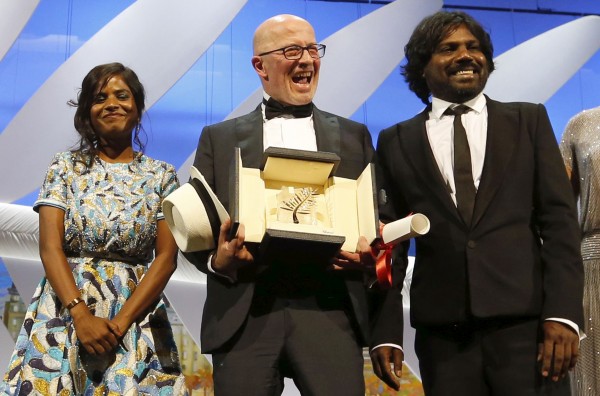 Director Jacques Audiard (C), Palme d'Or award winner for his film "Dheepan", actress Kalieaswari Srinivasan and actor Jesuthasan Antonythasan pose on stage during the closing ceremony of the 68th Cannes Film Festival.
Todd Haynes' 'Carol', which was the overwhelming favourite with the critics, recreated New York of the 1950s beautifully, as the setting for an emotional love story between two women played by Cate Blanchett and Rooney Mara. Although criticized for a cliché ending, the Palme D'Ór winner, 'Dheepan', by Jacques Audiard, based on a Sri Lankan Tamil militant who has settled in Paris suburb but can't shake off his violent past, I thought was a well deserved pick. Then there was Paolo Sorrentino's well-written 'Youth', that had Michael Caine and Harvey Kietel cast as aging artists.
This year the festival directors seemed to have put all their bets on French films. In addition to the opening film, Emmanuelle Bercot's 'Standing Tall', as many as five French films were in the competition section. Three of them picked up awards - the Best Actor award for the great French actor Vincent Landon playing an unemployed factory worker in Stephane Brize's modest drama, 'The Measure of Men'; the Best Actress award for actor and filmmaker, Emanuelle Bercot for Maiwenn's unpopular French film, Mon Roi (shared with Rooney Mara for her turn in 'Carol') and Dheepan that the jury headed by the Coen brothers – Ethan and Joel thought was the best pick.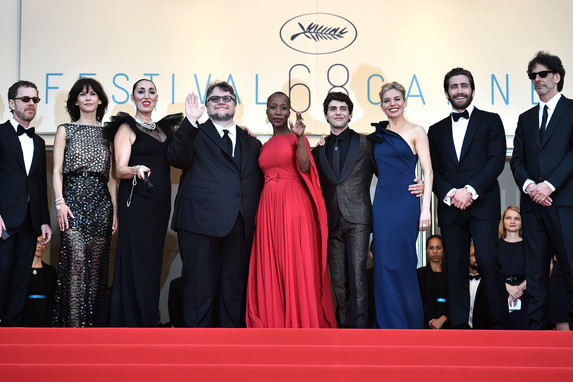 American writer and director brothers Joel and Ethan Coen, Jury Presidents of the 68th Cannes Film Festival, and jury members Guillermo del Toro, Jake Gyllenhaal, Sophie Marceau, Sienna Miller, Xavier Dolan, Rossy de Palma, and Rokia Traore pose on the red carpet as they arrive at the closing ceremony of the 68th Cannes Film Festival.
Perhaps the focus on French cinema had something to do with the psychological trauma experienced by the nation after the Charlie Hebdo massacre in January. Intense soul searching about the future of the multicultural society and its systems are still on going. The choice of the opening film, Emanuelle Bercot's 'Standing Tall' – that looks at how juvenile delinquents are rehabilitated in France - was a telling one.
With so many French films in the official categories Arnaud Despechin's 'My Golden Days' didn't get a berth. An opportunity immediately grabbed by 'Director's Fortnight', the rival side bar section that's independent of the official festival. The programming for Director's Fortnight that included the epic three part 'Arabian Nights' by Portuguese Director Miguel Gomes of 'Tabu', (2012) was pretty awesome.
I couldn't help notice was how many European filmmakers had chosen to step out of their comfort zone and make their latest films in English. There was Paolo Sorrentino's 'Youth', Matteo Garrone's 'Tale of Tales'; Greek director Yorgos Lanthimos' 'The Lobster' and Norwegian Joachim Truer's 'Louder Than Bombs'. Even Mexican filmmaker Michel Franco's 'Chronic.' was in English. It seems that most filmmakers are seeking the global audience that English delivers!
It's hard to forget the commerce of cinema when you are in Cannes. The festival received 1800 entries out of which only 50 were selected in the official categories. An official selection at Cannes has always boosted a film's commercial prospects. In the market screenings for trade – where filmmakers pay to have their films screened – looking for distribution, remake rights and the rest – there were 1500 films! Speaking at Cannes about the future of the business, Ted Sarandos, the Chief Content Officer of Netflix, said that its subscriber base would go up from the current 62 million in 50 countries to 500 million in 200 countries by 2020. Its aggressive move to acquire films is meeting with resistance though. 'Beasts of No Nation' starring Idris Elba was not selected by the Cannes festival in a move many believe is resistance to the digital content provider's entry into France. Netflix owns the distribution rights to the film.
It's clear that the paradigm shift that has been forecast for the movie business is here. VoD (Video on Demand) and its various avatars like SVoD (Subscriber Video on Demand) and PVoD (Premium Video on Demand) are already contributing to more than half of a film's revenues cannibalizing theatrical revenues.
For desi indie filmmakers all this is good news. Already I see the new wave of independent filmmakers telling stories of the 'other' India or Indias – reminiscent of the new wave cinema of the 70s and 80s. But my only apprehension is that these young and differently wired filmmakers will migrate to USA and Europe seeking support and partnerships with independent studios. They are already in demand – Asif Kapadia's documentary 'Amy' created waves in Cannes and filmmakers like Partho Sengupta, Prashant Nair and the late Prashant Bhargav have found success abroad. Much in the same way as our researchers, doctors, IT professionals and software guys have found better opportunities overseas, so will our filmmakers.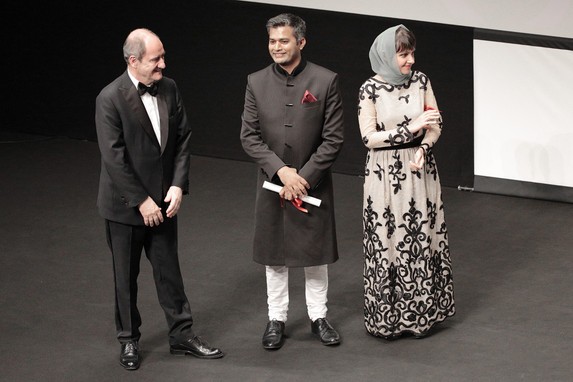 Neeraj Ghaywan receives the Promising Future Prize in the Un Certain Regard section for his film Masaan.
Debutant director Neeraj Ghaywan's 'Masaan' that shared the prestigious best first film award in the Un Certain Regard section, the first time after 15 years for an Indian film, also won the coveted international critics' award. Co-produced by Pathe, the good news is that it will release here on June 24, 2015.
But that's a wonderful exception. For many films despite acclaim at Cannes and other international festivals they haven't managed to get released in India. Three of Murali Nair's films were shown in three different years at Cannes but you haven't seen them here. Kanu Behl's 'Titli' is yet to release; Amit Kumar's 'Monsoon Shootout' and Vasan Bala's 'Peddlers' are finding it challenging to get a release. Ashim Ahluwalia's 'Miss Lovely' got a very poor release in India and the director, who the French media had hailed as the new Wang-Kar Wai from India, is still trying to get his next project off the ground.
Among the stars and the filmmakers and producers, there was another group that congregated at Cannes this year. A set of global billionaires and high net worth individuals were there to explore movies as an investment option. For three days, filmmakers pitched ideas to them! Indie cinema in India has benefitted from one such individual, Nigeria-based businessman Manish Mundra. The need of the hour is many, many more.
(Sunil Doshi is a film producer. He co-produced 'Chauthi Koot' that was screened in the Un Certain Regard section at Cannes this year.)