Two Unrelated Videos Were Shared Together To Falsely Claim Muslims Attacked A Hindu Temple In Rajasthan
Find out the truth about these two viral videos on social media which alleged Muslims attacked a Hindu temple in Ranipura, Rajasthan.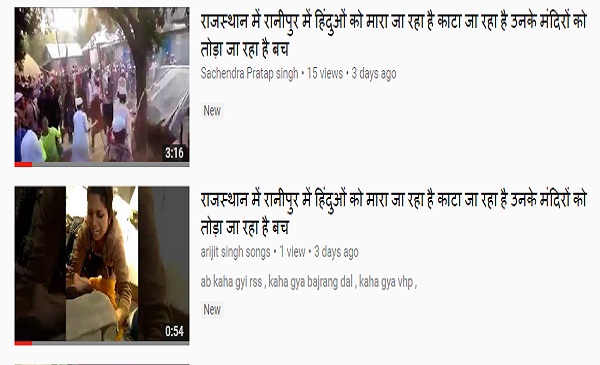 Two unrelated videos showing separate incidents of violence in Bangladesh and Rajasthan were maliciously clubbed together on social media in February to falsely claim that a Muslim mob attacked a Hindu temple in Rajasthan's Ranipura village.
The two videos were shared on WhatsApp, Facebook, Twitter and YouTube in India during the second week of February accompanied with Hindi text that roughly translates as 'In Rajasthan's Ranipur, Hindus are being beaten; being cut down. Their temples are being broken. And their children and women are being beaten. Share as much as possible. Jai Shri Ram.'
The first video showing a large mob of skull-cap clad Muslims breaking a red-brick structure and attacking a nearby house with with bamboo sticks, was shared on social media in India from February 10, 2018 onward.
BOOM did a reverse image search using multiple still frames from the video. We found that it had been uploaded on YouTube with Bengali text by individuals in Bangladesh days before it showed up in India.

We also found the same video with Bengali text on Facebook, uploaded at least three days earlier on February 7. The text in Bengali reads "They are starting to build a shrine for the Zinda Pir. This is how we should break every mazar in our country."
Mid way through the video, a man can be heard shouting in Bengali 'Chhele tare shorao' meaning 'move the boy away'; as the tin shed is about to collapse.
The same video was also posted on February 7 on Dr. Zakir Naik Peace Tv Bangla Facebook page.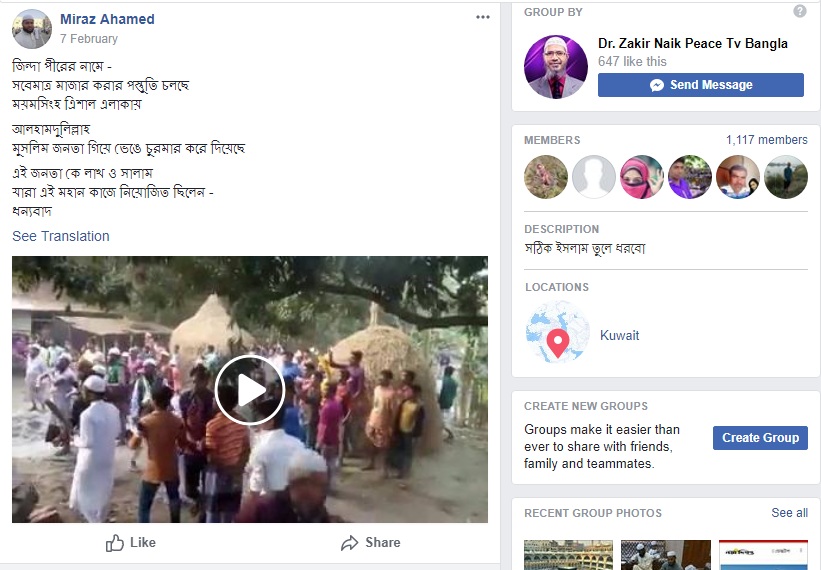 According to a local reporter in Bangladesh that BOOM spoke to, conservative Muslims consider mausoleums to be unislamic.
While BOOM is unable to independently verify the context attached to these videos from Bangladesh we can say with reasonable certainty that the video is not from Rajasthan.
On February 15, 2018 BOOM spoke to Yogesh Yadav, Superintendent of Police (SP) of Bundi district in Rajasthan to confirm if the incidents shown in the two videos and alleged by social media posts took place at Ranipura. Yadav said that the videos were brought to his notice but he had not found any evidence to support the claims.
However, at the time, Yadav was unable to tell BOOM any other details about the second video. BOOM also could not find any reliable news source or any other context in which the second video was uploaded to the Internet.
The second video shows a disturbing scene of women wailing and comforting a woman who appears to be shell-shocked and in a semi conscious state while broken bricks are strewn around.
ABP News sent its reporter to Ranipura, Rajasthan to investigate the video. The villagers of Ranipura told ABP News' reporter that no temple was attacked in the area. ABP News' Viral Sach stated that on February 4, 2018 an altercation broke out at the local pujari's house. A portion of the house and toilet that was being constructed outside the house were destroyed. Members of the Prajapati community, upset with a permanent structure being constructed on temple land broke the under-construction structure, ABP said. The women who were seen crying in the video belong to the Raghunath temple priest's family, the news channel said. (Watch ABP's Viral Sach video from 3.50 seconds onward)
Dashrath Singh, Additional Superintendent of Police (ASP) of Bundi spoke on camera confirming that villagers did not have a problem with the pujari's family worshiping at the Raghunath temple but objected to him building a permanent structure.