The Kulbhushan Jadhav Case: All You Need To Know
The International Court of Justice in The Hague is scheduled to give its verdict on the Kulbhushan Jadhav case later on Wednesday.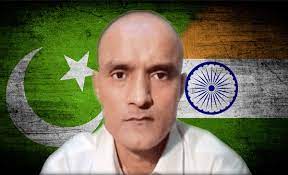 This story has been updated with ICJ ruling.
The International Court of Justice (ICJ), the prime judicial arm of the United Nations, ruled that India was to get consular access in the Kulbhushan Jadhav case on Wednesday, which has been a thorny legal tussle between India and Pakistan.
Further, his execution has been stayed, with the ICJ saying it is a prerequisite to effective reconsideration of Jadhav's conviction and sentence.
Pakistani military courts sentenced the former navy officer Jadhav to death in April 2017 on charges of terrorism and espionage; charges which India denies and has contested in the ICJ.
With the nearly three-year dispute expected to reach its culmination, BOOM rounds up all the facts pertaining to the case.
The Kulbhushan Jadhav Case: A Background
Kulbhushan Jadhav was allegedly arrested from the Balochistan province in Pakistan on March 3, 2016. Almost 3 weeks later, on March 25, 2016, the Indian government was informed by Pakistan of having Indian citizen Jadhav in their custody. India demanded consular access to Jadhav on the same day, which was denied.
While Pakistan claims that Jadhav was a spy for India's Research and Analysis Wing (RAW) and is currently a Navy officer who is slated to retire in 2022, India maintains that Jadhav was a former Navy officer who had retired in 2001.
India further adds that Jadhav was:
...kidnapped last year from Iran and his subsequent presence in Pakistan has never been explained credibly
Jadhav was sentenced to death in April 10, 2017, India approached ICJ on May 8 that year. Ten days later, a ten-judge bench of the ICJ asked Pakistan not to execute Jadhav until a final verdict was produced, effectively staying the hanging.
What Is The Basis Of Pakistan's Arguments?
Pakistan is basing their arguments on the following two videos, released in April and May 2017. In the video, Jadhav is seen admitting he is an Indian Navy officer, and that he was using the Chabbar Port in Iran as a base to spy in Pakistan for India's RAW. He further delves into the specifics of his role as a spy, one of them being aiding separatists in Balochistan.
These videos can be seen here and here.
What Is India's Stand On The Issue?
In 2017, then Home Minister Rajnath Singh and former External Affairs Minister Sushma Swaraj both said that Jadhav was not a spy, and was innocent.
India's response to the death sentence was that Jadhav's execution sentence was "premeditated murder", calling the entire trial process "farcical." India has also called the video "extorted."
Consular access was allegedly denied to Jadhav 13 times, which India argues goes against the Vienna Convention of 1963, and that is a violation of international law. India has demanded the immediate release of Jadhav and his facilitation.
In case Jadhav is not released, India has requested a free and fair trail with full consular access, and that trial occur in a civilian court without keeping the video as evidence.
The Judicial Process and Possible Outcomes
In December 2017, interim in which Jadhav was incarcerated while in Pakistan during the ICJ trial, he was able to meet his mother and wife in Pakistani Foreign Office in Islamabad.
None of them were reportedly allowed to speak in Hindi or Marathi, with the ladies having to remove jewellery and bindis before the meeting. The Deputy High Commissioner was allowed to accompany his mother and wife after much harrowing, but could reportedly not hear the conversation due to being behind a glass separator.
The Indian side was being represented by senior lawyer Harish Salve.
According to the UN Charter, which member countries are obligated to follow as members of the United Nations, members undertake to comply with ICJ judgements.
ICJ Grants Jadhav Consular Access, Stays Execution
The ICJ ruled almost unanimously - 15:1 - in favour of admitting India's plea, and ruled that Pakistan would have to give Jadhav consular access.
Further, the ICJ ruled with the same numbers that Pakistan was under obligation to reconsider its conviction of Jadhav in lieu of this ruling. The Court also ordered a stay on Jadhav's execution, stating it was essential for any reconsideration of the sentence.
However, the Court rejected India's plea of a release and to facilitate his passage to India.