Social Media Fakes Yet Another 'Chowkidar' T-shirt Of Tajinder Bagga
No, Tajinder Bagga did not wear a t-shirt calling the prime minister a 'chor'.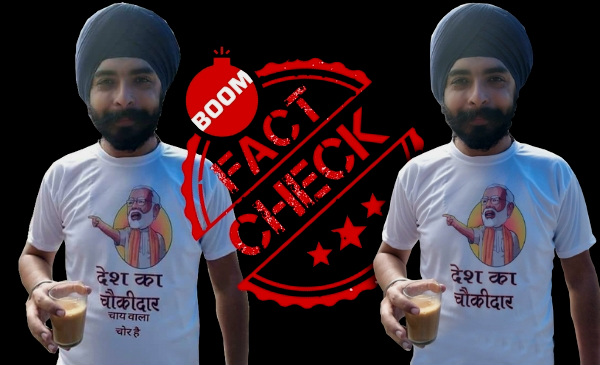 Tajinder Pal Singh Bagga, spokesperson for the Bharatiya Janta Party's Delhi wing, is once again at the center of yet another t-shirt controversy.
This time round, a Facebook post shows Bagga clad in a t-shirt with 'Desh Ka Chowkidar Chai Wala Chor Hai' written in Hindi. The post translates to 'the country's watchman tea seller is a thief'.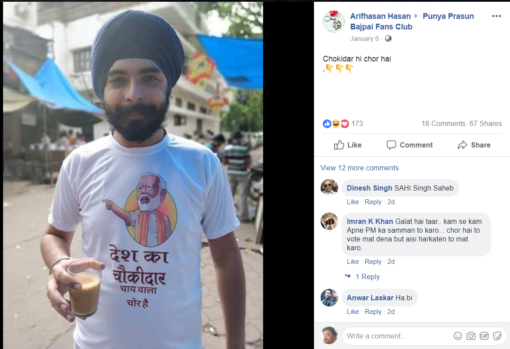 The image was posted to the Facebook page 'Punya Prasun Bajpai Fans Club' on January 6, 2019. Click here to view an archived version of the post.
FACT CHECK
When BOOM looked for the photo on Bagga's official twitter handle, we found images of the same t-shirt shared by him on September 21, 2018. However, the caption on the t-shirt in the original image reads, 'Desh Ka Chowkidar' in Hindi.
The words 'Chai Wala Chor Hai' have been photoshopped into the image.
राहुल जी का कहना चौकीदार चोर है देश के हर उस चौकीदार है अपमान है जो सारी रात जाग के हमारे घर की रक्षा करते है।हम 25 तारीख से हर रात ,हर गली, हर मोहल्ले मे चौकीदार भाइयो से मिलेंगे और उन्हे राहुल जी की मानसिकता से अवगत कराएंगे साथ मे हर चौकीदार भाई को 1 मोदी टीशर्ट उपहार में देंगे pic.twitter.com/kVRKX5LBRf

— Tajinder Pal Singh Bagga (@TajinderBagga) September 21, 2018
We also found the exact same photo tweeted by him on December 2, 2018.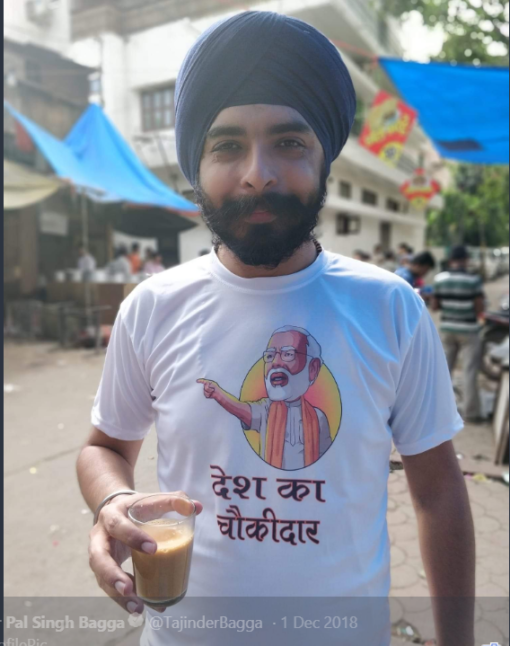 Bagga had also tweeted photos of himself along with others clad in similar t-shirts on September 26, 2018,
A photoshopped image of Bagga wearing a t-shirt with #Mera PM Chor Hai ('My PM is a thief') written over it had gone viral on Twitter and Facebook in September 2018 as well. (Read BOOM's Hindi story debunking the fake image here)
(BOOM is now available across social media platforms. For quality fact check stories, subscribe to our Telegram and WhatsApp channels. You can also follow us on Twitter and Facebook.)
Claim Review :
Facebook post shows Tajinder Pal Singh Bagga clad in a t-shirt with 'Desh Ka Chowkidar Chai Wala Chor Hai'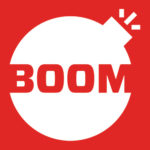 Sumit Usha
Sumit is a fact checker and the News Editor of Boom's Hindi wing. In the six years of his journalistic career, he has worked with the New Indian Express, Times of India and Deccan Chronicle. The dynamic nature of digital media finally made him take the leap from print to online, and don the hat of a digital detective.