Sidhu Attacked With A Shoe? No, This Is Photoshopped
The image is a composite of two separate and unrelated images.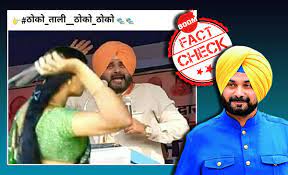 A photo purporting to show a woman about to hit Navjot Singh Sidhu with a shoe, is photoshopped. The image is a composite of two separate and unrelated images.
In the fake photo the cricketer-turned-politician can be seen animatedly addressing a crowd, while a woman in a green sari can be seen raising a shoe as though she is about to hit him.
The post can be viewed below and its archived version here.
The image has been captioned in Hindi as, Thhoko Taali, Thhoko Thhoko, taking cue from a stand-up comedy show that Sidhu was part of.
Sidhu's expression and raised hand make it appear as though he is flinching and defending himself from the attack.
Fact Check
The part of the photo where the woman appears is much more grainy than the part where Sidhu is visible. Graininess is often an indication of poor pixel quality, suggesting the photo has been downloaded from somewhere else.
BOOM cropped the image into two and ran a reverse image search on each part separately.
The image of Sidhu had been uploaded on Dainik Jagran from his campaign in Bihar that was held on April, this year.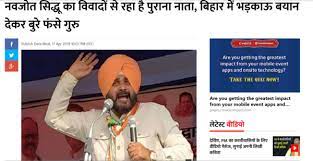 Meanwhile, the photo of the woman has been online for a long time. BOOM ran a reverse image search and found that the photo was first uploaded on a website which posted jokes, in 2017. Below is the screenshot.
It has also been used to as a stock photo by news websites.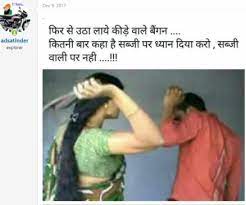 Claim Review :
Photo shows Navjot Singh Sidhu about to be hit by a woman with a shoe
Claimed By :
Facebook posts