Republic TV Misreports Arrested Postcard News Founder Mahesh Hegde's Tweet
Republic TV attempts to sanitize fake news website founder Mahesh Hegde's tweet. Gets caught in the act by Twitter users.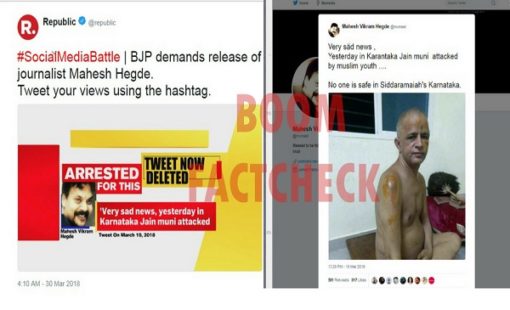 Arnab Goswami-led Republic TV's official Twitter handle edited a now deleted tweet by Mahesh Vikram Hegde, who was arrested by the Bengaluru central crime branch on Thursday for spreading fake and communally sensitive stories.
In an attempt to sanitize a factually incorrect and incendiary tweet, the channel tweeted a graphic accompanied with text that read 'ARRESTED FOR THIS - "Very sad news, yesterday in Karnataka, Jain muni attacked".'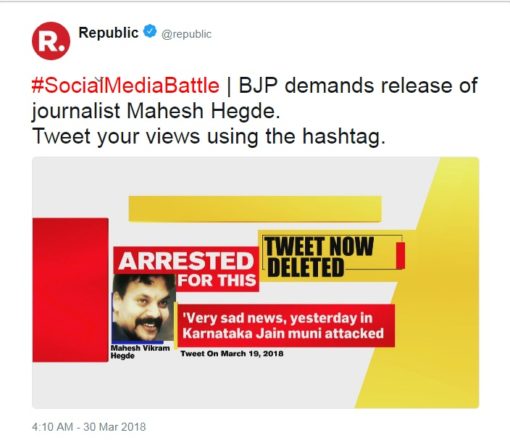 However, Hegde's original tweet from March 18, 2018 falsely alleged that a Muslim youth had attacked the Jain priest, whose photo he had uploaded. Hegde also wrote in the same tweet, "No one is safe in Siddaramaiah's Karnataka". (Click here to view an archived version of Hegde's tweet)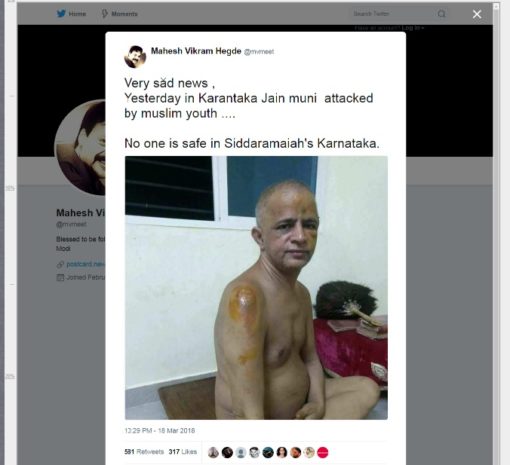 Hegde and his website Postcard News spun a story alleging that a Muslim youth was responsible injuring the Jain priest. However, local police had a different version of what actually occurred, they say Shri Upadhyaya Mayank Sagarji Maharaj was injured by a drunk driver. Read the story on Hegde's arrest here.
Republic TV, which removed the reference to a Muslim youth and Karnataka's Chief Minister Siddaramaiah, deleted the tweet when called out by Twitter users (see below screenshot). (Click here to view an archived version of Republic TV's tweet) BJP MP Rajeev Chandrasekhar is a significant shareholder in the channel.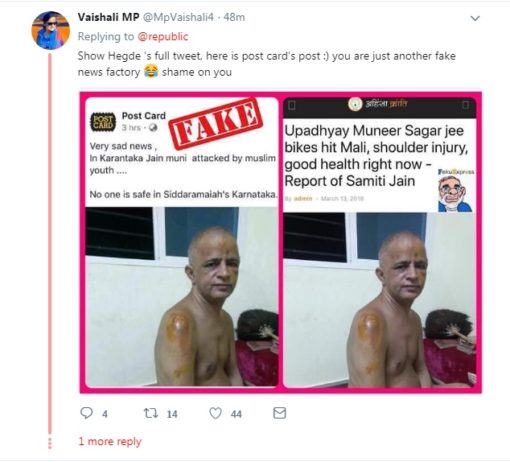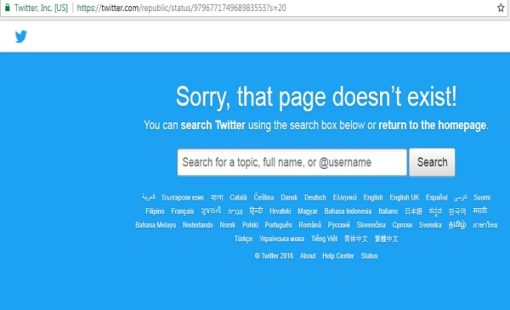 Hegde's arrest has rankled the Indian right wing on social media. His website Postcard News churns out pro Hindutva, pro BJP, and anti-minorities stories and has a large following on social media in India.
A Twitter hashtag 'Release Mahesh Hegde' was trending on Thursday in India. Several BJP leaders have tweeted in his defense, demanding his release and accusing the Congress-led Karnataka government of clamping down on free speech in the poll-bound state.
BOOM and other fact-checker have routinely debunked stories by Postcard News. (Click here, here and here)