Ravi Shankar Prasad Goes Tough On Fake News But Soft On Postcard
Prasad said that a CBI probe has been ordered into the Cambridge Analytica data breach case over doubts of illegally obtaining data of Indians from Facebook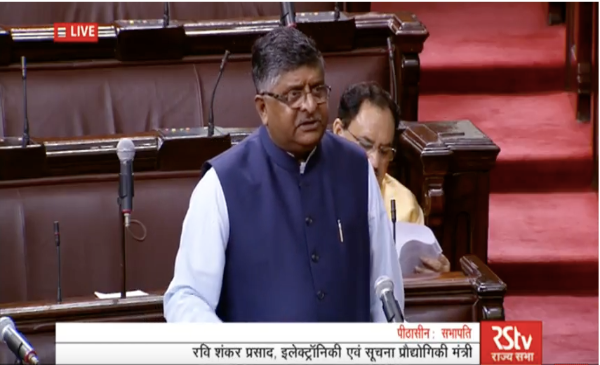 Ravi Shankar Prasad, Union Minister for Electronics & Information Technology
Courtesy: Rajya Sabha TV
In what may not come as good news for social media platforms like Facebook and WhatsApp, Ravi Shankar Prasad, Union Minister of Electronics & Information Technology has said that all social media companies should "submit themselves and their services to the jurisdiction of Indian courts and authorities by having a physical presence in India."
Replying to a discussion on fake news, Prasad also informed the House that the government has ordered a CBI probe into the Cambridge Analytica data breach case over doubts of illegally obtaining data of Indians from Facebook.
The seventh day of the Monsoon Session saw Rajya Sabha members debating over spread of fake news on social media platforms and the recent instances of lynchings triggered by child kidnapping rumours.
Prasad laid the blame on WhatsApp and its role in spreading rumours that led to the loss of lives through mob lynching. He listed out the changes made by Whatsapp consequent to a notice issued by the Union government but remarked that "these steps are not adequate." He added, "The government has issued a second notice to WhatsApp and it was conveyed to them at the highest levels that being a technological major company, it is their responsibility to come up with a technical solution when a harmful message is in wide circulation on the same day in a particular area on a particular issue. It is their obligation to inform the law enforcement agencies when they notice such messages," he said.
But even as the union minister took a tough stand against fake news and the responsibility of social media platforms, his response on fake news website Postcard being taken down by Facebook came as a surprise.
Also Read: Facebook Removes Fake News Page Postcard For Copyright Violations
Replying to TMC MP Derek O'Brien's questions about BJP supporting Postcard, Prasad said, "Post Card was removed by Facebook but there is no evidence of it propagating any ideology and it was reason for that." He further listed that fake and hoax news spread on websites are regularly monitored and taken down and till date 457 Facebook pages, 91 YouTube accounts and 321 Twitter pages have been taken down.
Earlier, Derek O'brien, Member of Parliament, All India Trinamool Congress posed four questions to Ravi Shankar Prasad, minister of Information Technology about spread of fake news and the action taken by the government. He made a direct attack on the ruling Bharatiya Janata Party by accusing them of "creating a culture of digital mobs, used social media to condition minds, made fake news into their master hobby."
He then went on to talk about Facebook pulling down the page of fake news website Postcard News and calling the content of Postcard news "hundred percent right wing, RSS and BJP." Rajya Sabha Chairman M Venkaiah Naidu objected and said that the mention of RSS cannot be taken on record.
O'Brien asked, "If Facebook brought down Postcard news and we all know the content, then why are BJP MPs and MLAs now demanding that it should be brought back." He then asked about the funding behind Facebook page 'Nation with Namo' terming them Facebook's largest advertisers and also suggested that Whatsapp should be asked to disclose the top 1000 groups and who runs these groups.