Photo Of Young Rohingya Refugee Shared With Communal Claim
BOOM found that the image of the Rohingya girl was taken from a BBC news report and shared with a fabricated story.
A screenshot of a young girl from the Rohingya community holding a child in her arms taken from a British Broadcasting Corporation (BBC) News' news story about Rohingyas' is being shared with a fake, malicious claim that the girl has two children from her husband aged 54.
The text on the viral image reads, "This is a 14 year old Rohingya 'woman'. She has two children. Her husband is 54 years old. This means in 14 years two children. In her lifetime atleast she will give birth to 20."
(Original text in Hindi - 14 साल की रोहिंग्या "महिला", नाम: सखरा इसके 2 बच्चे है । शौहर 54 साल का है । * इसके 14 साल में 2 बच्चे है । जीवन भर में कम से कम 20 करेगी)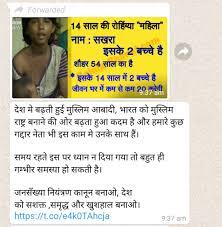 BOOM received this image on it's WhatsApp helpline number (7700906111) with the caption, "Increasing Muslim population in the country is a step towards making India a Muslim nation and some of our traitor leaders are also with them in this work. If it is not taken care of in time, then there may be very serious problem. Make population control laws, make the country strong, prosperous and happy"
In Hindi - " देश मे बढ़ती हुई मुस्लिम आबादी, भारत को मुस्लिम राष्ट्र बनाने की ओर बढ़ता हुआ कदम है और हमारे कुछ गद्दार नेता भी इस काम मे उनके साथ हैं। समय रहते इस पर ध्यान न दिया गया तो बहुत ही गम्भीर समस्या हो सकती है। जनसँख्या नियंत्रण कानून बनाओ, देश को सशक्त ,समृद्ध और खुशहाल बनाओ "
Searching on Facebook with the same caption, we found several posts with the same image.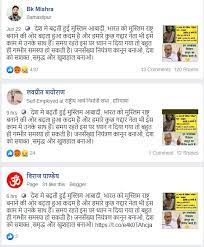 FACT-CHECK

A reverse image search of the photo led us to a BBC News' video – 'In the jungle with Rohingya refugees feeling Myanmar ' uploaded on YouTube on September 4, 2017.
In the video, the BBC's correspondent Sanjoy Majumder is seen walking alongside people fleeing Myanmar. The girl in the image can be seen at 2.06 minutes and the girl is not mentioned in the clip proving that the backstory given to her is fake.
We also contacted the BBC and they denied that there was any suggestion in the BBC report that the young girl is holding her own child.
In an email response to BOOM, a BBC spokesperson said, ''The picture circulating on social media is misrepresenting a BBC Report about the first shelter where Rohingaya refugees camp after entering Bangladesh. At no point in the story is there any suggestion the young girl is holding her own child."
In 2017 at the height of the anti-Rohingya rhetoric on social media in India, BOOM had fact-checked this image on September 25, 2017.
At that time it was shared by a Twitter user named Ravinder Sangwan with a fabricated story that the girl a 14-years-old had two children and was married to a 56-year old man who had six wives and 18 children.
BOOM has previously fact-checked misinformation against Rohingya refugees circulating on social meda. (here, here)
Claim Review :
14 Year Old Rohingya Girl Got Two Children
Claimed By :
Facebook Posts