Old Lynching Incident From West Bengal Revived With False Communal Claim
Images from a 2017 incident where a mentally challenged woman was lynched on suspicion of being a child kidnapper have been revived with communal spin.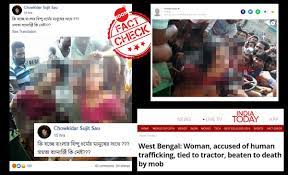 A set of two images of a mentally challenged woman tied to a tractor and about to be tonsured by a mob is viral on Facebook with a claim that alleges West Bengal is not safe for Hindu women anymore.
The disturbing post purported to show atrocities committed on the state's Hindu community, has been captioned as, "what is happening to Hindus in Bengal? Is Mamata Banerjee not there at all?" (Translated from Bengali - কি হচ্ছে বাংলার হিন্দু ধর্মের মানুষের সাথে ??? মমতা ব্যানার্জি কি নেই???)
In the image, a visibly scared and badly injured woman can be seen bound to a tractor as an angry mob tries to tonsure her head.
The archived link of the post can be viewed here. BOOM has decided not to include the same.
A reverse image search on the photos showed that the incident is nearly two years old and does not have any communal angle.
The images are of Otera Bibi, a middle-aged woman who was lynched on suspicion of being a child kidnapper. Otera Bibi, a mentally challenged woman was stripped, heckled, tonsured and beaten to death in West Bengal's Raghunathganj by a mob in June 2017, after rumours of child kidnappers entering the state from Jharkhand started doing the rounds in the area.
The depraved crime was widely reported at the time. News reports on the lynching can be accessed here, here, and here.
Below is an extract from an article by the Hindustan Times.
"The incident occurred around 3 am on Tuesday, when a villager noticed Otera entering the house of one Dilip Ghosh with something in her hand. Word spread that the woman had come bearing chloroform to abduct Khushi, Ghosh's minor daughter. A mob rushed into the house and caught her "red-handed".
"The villagers started beating the woman mercilessly. She was trying to say something, but we couldn't understand it. In fact, her incoherent speech fuelled suspicions that she was a trafficker from Bangladesh. Some youngsters ripped off the woman's clothes and partly tonsured her. Then they tied her to a tractor and beat her for three hours," a local resident told HT on the condition of anonymity." -
Rumours of child kidnappers particularly on WhatsApp have had brutal real world consequences in India since 2017. In all cases, the victims were attacked on mere suspicion with police finding no evidence of the victims being child kidnappers.
Claim Review :
Image shows how Hindu women are unsafe in Bengal
Claimed By :
FACEBOOK POSTS