Old Images Of Toxic Foam Revived As Yamuna Froths Again
2016 images of women offering prayers in a polluted Yamuna are being shared as recent.
Several images of devotees offering prayers in a highly polluted Yamuna river on Chhatt Puja in 2016 have resurfaced with false claims that they are recent.
The river has produced cloud-like toxic foam this year as well but many of the images circulating on social media are old.
Foaming is caused in rivers due to high concentration of chemicals like nitrogen and phosphorous from untreated sewage that is dumped into lakes and other water bodies. These chemicals are produced from waste generated from detergents and industrial effluents.
The dystopian photographs show devotees paying homage to the sun god with flowers and incense, in an extremely polluted water body, filled with toxic foam.
News 18 shares old photographs of pollution as recent
Photographs of women taking a holy dip in the toxic water have been revived on social media and news portals and are particularly viral as recent. An archive of the article can be viewed here.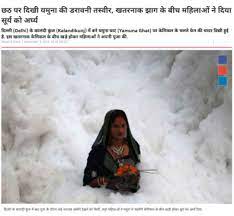 The photographs have been shared by several handles as recent too. Journalist Prashant Kanojia identified the images as Chhath Puja celebrations in Delhi's Kalindi Kunj. He captioned the tweet as, "These photographs are from Chhath Puja celebrations of Delhi's Kalindi Kunj. If this isn't the call of death, then what is it?"
The images have been used by multiple Facebook posts as recent as well.
BOOM found the images were taken during Chhath Puja celebrations of 2016 by Indian Express photographer Abhinav Saha. The entire gallery can be accessed here.
The disturbing images are viral in the wake of severe air pollution that has gripped Delhi. A health emergency has been declared as the capital is suffering from hazardous health conditions and poor air quality not deemed fit for breathing. Read more here.
The Supreme Court on Monday said authorities will be held responsible for "even a single incident of stubble burning" in the states of Uttar Pradesh, Punjab and Haryana. The Delhi government's odd-even scheme was rolled out on November 4.
However, not all images online were old. Recent images of Chhath Puja celebrations in Delhi can be viewed below.
Claim Review :
Images of pollution in Kalindi Kunj, Delhi
Claimed By :
FACEBOOK POSTS and News Portals