No, Amit Shah Was Not Caught Sleeping In Rajya Sabha
BOOM accessed the RS TV footage and found that Amit Shah wasn't sleeping. The screenshots were taken when Shah blinked his eyes.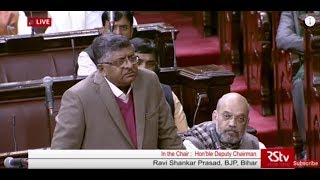 An image showing Home Minister Amit Shah sleeping during a Rajya Sabha session, is false. The viral image claims to show Shah mid-sleep even as Law minister Ravishankar Prasad is addressing the Chairman of the Upper House.
BOOM found that photo is a screenshot from Rajya Sabha TV's coverage of the Reservation Bill on January 9, 2019 with the original video showing Shah nodding and reading something as Prasad speaks.
The caption with the viral post reads 'Levels of hypocrisy of bhakts : unmatched! @RahulGandhi using his phone is a problem but then @AmitShah sleeping is not!'. BOOM checked the original video of the proceeding of the House and found the claims to be false as Shah was wide awake during Prasad's speech.
The post has since been shared on several Facebook pages and on Twiter. The official handle of West Bengal Congress also tweeted the misleading photo. BOOM had earlier debunked a false claim tweeted by WB Congress on Friday claiming a bridge in Gujarat inaugurated by Prime Minister Modi collapsed.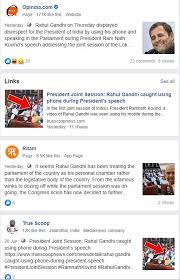 Archived versions of the viral post can be seen here and here.
Fact Check
One of the replies on a tweet which shared this image with the false claim led us to an NDTV video of the Rajya Sabha proceedings from where the screenshot has been snipped.
BOOM checked the 15-minute-long video and found that several times during Ravishankar Prasad's speech, Shah blinks his eyes or bends forward to read something. A screenshot at this moment makes it appear as if the minister is taking a nap. While Shah removes his spectacles and leans on his elbow to listen to Prasad, if one watches the complete video it becomes clear that he was awake all this while.
BOOM accessed the Prasad's full speech from Rajya Sabha TV's archives and and analysed it to see if Shah was dozing at any point of the speech.
We took continuous screenshots of a portion from the speech to show Shah's movements.
Rahul Gandhi Using Phone Incidence
The viral post concernin Shah comes at a time when social media is abuzz with posts relating to an incident where Congress party president Rahul Gandhi was seen using mobile phone during President Ram Nath Kovind's speech addressing the joint session of the Parliament.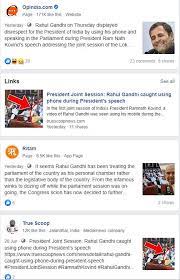 Gandhi was seen fiddling with his mobile phone while the President was addressing the joint session of the Parliament on June 20.
The captions of several posts claiming Amit Shah was asleep during the Parliament session talk about the Rahul Gandhi incident.
Claim Review :
Amit Shah was sleeping in the Parliament
Claimed By :
Facebook pages and Twitter handles