Molestation Video From Uttar Pradesh Shared With Communal Spin
Viral post falsely claims that two 'peacefuls' – a term used on social media to mock Muslims – are molesting a girl. BOOM found that the accused were Hindus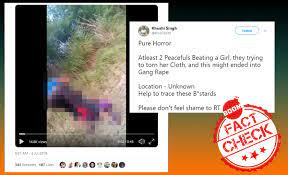 A disturbing video showing a youngster molesting a girl while another youth records the depraved act has been shared with a caption which purports to show that the accused duo belong to the Muslim community. However, the accused, who were arrested by the Jaunpur (Uttar Pradesh) police, are not Muslims.
A caption with the viral post reads "Pure Horror. At least 2 Peacefuls Beating a Girl, they trying to torn her Cloth, and this might ended into Gang Rape Location – Unknown Help to trace these B*stards Please don't feel shame to RT." While the caption does not directly mentions the accused as Muslims, it uses the term 'peaceful' which is widely used nowadays to refer to people from the community in a derisive way.
Due to the graphic nature of the video, BOOM has decided not to share the video.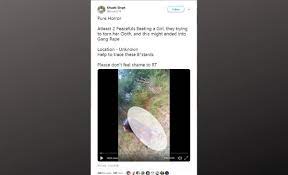 The 45-second long video shows a youngster trying to forcefully undress a girl. Another youth can be seen filming the heinous act.
Fact Check
One of the replies on the tweet mentions that the incident is from Jaunpur and the duo had been arrested. BOOM checked the Twitter timeline of Jaunpur police and found their tweet related to the incident. The incident was reported from Zafrabad of Jaunpur.
Jaunpur superintendent of police VK Mishra, while briefing the media about the incident, said that incident was from Zafrabad police station.
Police had registered an FIR against the accused Chhattu alias Hriday and Kallu. The duo has been arrested. The minor girl had gone to herd sheep in the area when the accused came on a motorcycle and harassed her — VK Mishra, SP, Jaunpur
The names of the accused mentioned by the SP clearly indicate that they don't belong to the minority community.
The incident had also been reported widely earlier this month by several newspapers. Reports on the incident can be read here and here.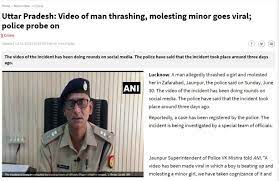 (BOOM is now available across social media platforms. For quality fact check stories, subscribe to our Telegram and WhatsApp channels. You can also follow us on Twitter and Facebook.)
Claim Review :
Video claims that two Muslims are trying to molest a girl
Claimed By :
Twitter handle
Related Topics:
featured, Gang Rape, harass, Hindus, jaunpur, molest, molestation, Muslims, rape, Video, viral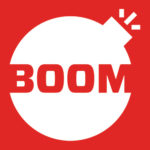 Sumit Usha
Sumit is a fact checker and the News Editor of Boom's Hindi wing. In the six years of his journalistic career, he has worked with the New Indian Express, Times of India and Deccan Chronicle. The dynamic nature of digital media finally made him take the leap from print to online, and don the hat of a digital detective.