Mock Ambush Video Falsely Shared As Indian Army Ops
BOOM found that the original video was uploaded by a YouTube user named 'Brent0031' titled 'Hasty Ambush' on March 8, 2018.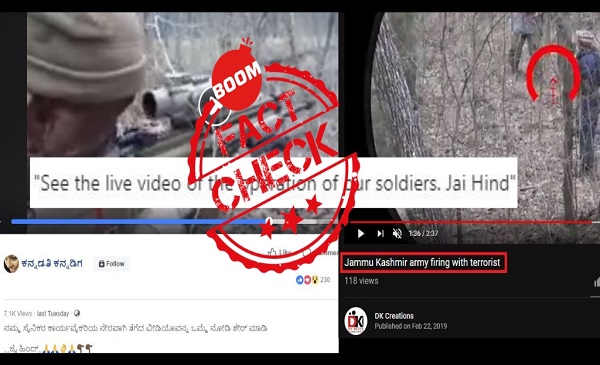 A mock video created by a United States Marine showing soldiers engage in a gunfight with militants is being shared on social media as the live footage of an Indian Army operation.
The Indian Air force had struck training camps of the terrorist group "Jaish-e-Mohammad" in Balakot, Pakistan on February 26, 2019. In the backdrop of the airstrikes, the video has gotten a new lease of life online.
In the video, one can spot soldiers ambushing militants in a forested surrounding.
The clip was shared on Facebook by a user on February 26, 2019 at 8.57 pm with a caption that roughly translates to, "See the live video of the operation of our soldiers, Jai Hind." ( "ನಮ್ಮ ಸೈನಿಕರ ಕಾರ್ಯವೈಕರಿಯ ನೇರವಾಗಿ ತೆಗೆದ ವೀಡಿಯೊವನ್ನ ಒಮ್ಮೆ ನೋಡಿ ಶೇರ್ ಮಾಡಿ,,,ಜೈ ಹಿಂದ್," )
The video has garnered about 7,100 views at the time of writing this story.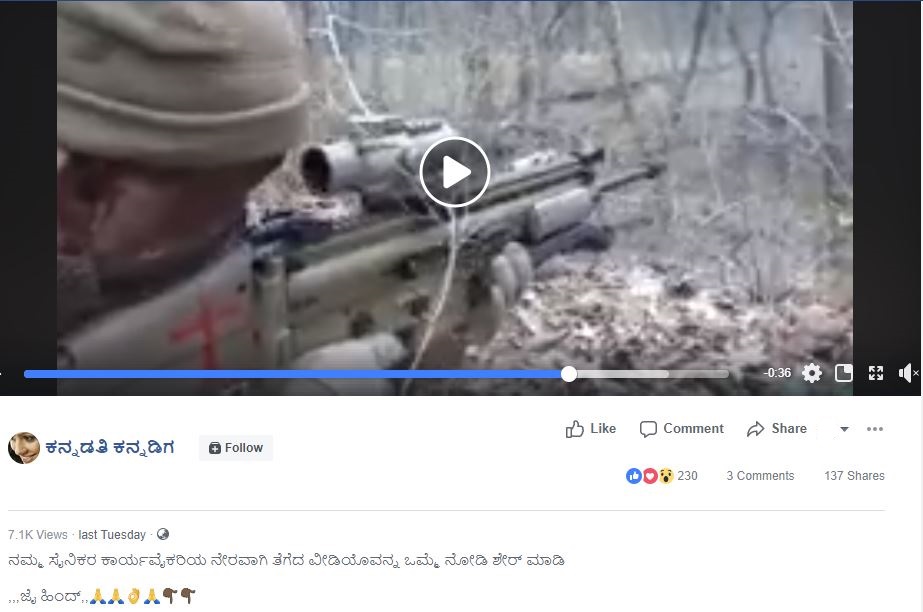 Click here to view the post and here for an archive version.

We also received the video on BOOM's WhatsApp helpline (7700906111) from a reader asking if it was true.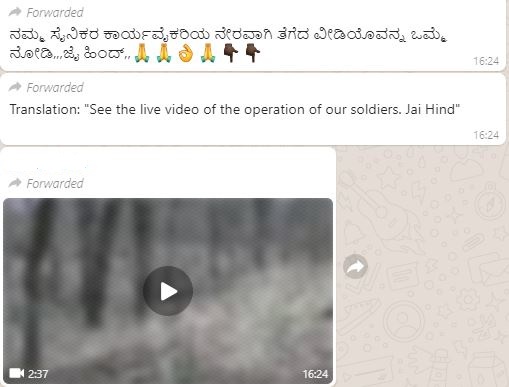 FACT-CHECK
Shared earlier with a misleading caption
The same video had been earlier uploaded on YouTube with a misleading caption stating, 'Jammu Kashmir Army fighting with terrorist' by a channel named 'DK Creations' on February 22, 2019.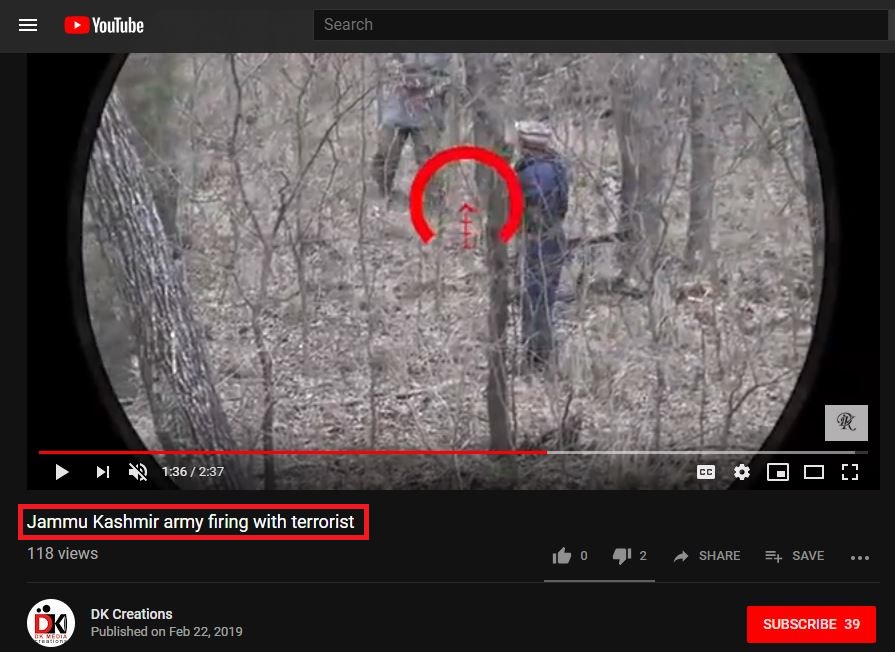 Origin of the video
BOOM found that the original video titled 'Hasty Ambush' was uploaded by a YouTube user named 'Brent0031'on March 8, 2018.
The YouTube channel is run by Brent Downing, a United States Marine who makes YouTube videos on 'Camouflage Effectiveness Series' in which he documents techniques from militaries around the world. (Read more here.)
In the excerpt of the video, Downing has described it as an introduction for a review video on 'Primary Arms ACSS Raptor', a device used in rifles to aim at moving targets. He also thanked the people who helped him shoot the video as well as provided the source of the music used in the clip.
Claim Review :
Video Of Live Indian Army Operation Gunfight With Terrorists
Claimed By :
Social Media