Just Another Fake Quote By Google CEO Sundar Pichai
BOOM found that the quote is bogus, and is being shared on the internet since 2017.
Google CEO Sundar Pichai's name is not new to the fake news industry. This time, a 2-year old fake quote by Pichai has been revived on social media, and people are falling for it.
On August 26, 2019, a Twitter user posted a photo, which contained a portrait shot of Pichai along with a piece of text which was made to appear as a quote by the Google CEO.
The text read: "I'm not interested in politics, but I'm worried about India's unemployment, millions of youngsters losing their jobs. India must concentrate, on people's welfare, not their food habits. Future of the country is in the hand of rational minds.
-Sundar Pichai
CEO, Google"
BOOM took out some key phrases from the text and did a search on Facebook, which led us to posts dating back to 2017, carrying the same quote being attributed to Pichai.
We also found a longer version of the quote being shared on Twitter since 2017, which highlighted the beef ban in India and spoke of personal freedom on the matter.
Fact Check
BOOM did a Google search with the text used in the quote, but could not find a single reliable source that would verify the quote.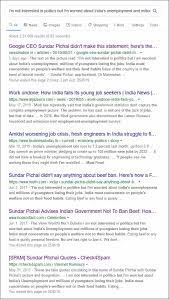 However, we did come across multiple fact checking websites calling out the quote as fake.
BOOM got in touch with a Google spokesperson, who confirmed to us that the quote was indeed bogus.
"I can confirm that's a doctored image and a fake quote attributed to him," said the spokesperson.
This was not the first time Pichai starred in a fake news story.
During the 2019 Lok Sabha elections, various Twitter users and a prominent media outlet ran a story about how Pichai came to India to cast his vote. However, BOOM found out the story was fabricated, and that Pichai could not vote in India as he is now a citizen of the USA.
Also Read: Old Image Of Sundar Pichai Passed Off As Him Coming To India To Vote
Claim Review :
Image shows quote by Sundar Pichai on Indias unemployment
Claimed By :
Social Media