Business
It's Hard Work But I Too Attend Future Skill Courses: Nasscom's Debjani Ghosh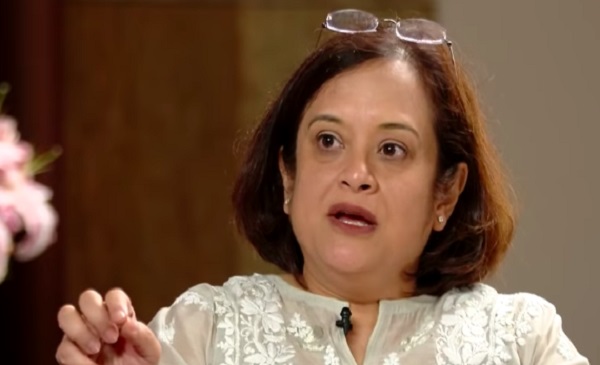 India's $180 billion IT services industry continues to grow defying all expectations and beliefs but the future of this industry also lies in the way industries and companies within it actually innovate and more importantly focus on the foundational issues such as skill and education.
Industry body Nasscom is spearheading the war-like effort on this front as has been Debjani Ghosh, Nasscom President and someone who has been an industry mascot for education and skilling much before she took up this current position. Ms Ghosh worked for 10 years with Intel before joining Nasscom, most recently as Managing Director (South Asia).
Ms Ghosh, thank you very much for speaking with us.
Debjani Ghosh: Thank you.
Let me focus first on the foundational issues that will take India's IT industry further. What are you focusing on to ensure it remains the way it is today, growing at 9% plus ?
First of all, it's been a fantastic year for the industry and not just IT services and Business Process Management (BPM) but it's been a fantastic year across the board .We have seen tremendous growth in Global Captive Centres (GCCs) and we have seen cutting edge R&D coming to India. In fact, today India has the highest market share when it comes to outsourcing R&D. We have seen growth in the startup ecosystem.
The one common thread that cuts across every single one of these segments be it a large MNC, large Indian company, start-up or SME is that they are all in some form of transformation, to cope up with the disruption that's happening outside. When we look at it , I think the key challenges are how fast they can transform themselves and faster than their competition. That is key to survival and key to competition today.
So from a Nasscom perspective, I think our focus really is how we impact that pace of transformation. What do we have to do to accelerate the transformation for every single one of the membership constituents that we serve. If you look at it, the building blocks are pretty common. The first one is talent and everybody needs the right talent.
Technology always displaces jobs and this has been happening for ages. But the pace of displacement is now faster than what we have ever experienced and what's happening therefore is our ability to keep up is becoming a challenge. As a result, most of the new jobs that are getting created, we don't have the skills for it. We have not been able to keep up.
So I think there's a huge focus right now to re-skill the workforce and also create a pipeline that can continue to provide the talent this industry needs. And that is becoming a do-or-die effort that pretty much is the new industry imperative. So far for Nasscom, that's job one. We have also worked with industry to launch an initiative called Future Skills.
It's really an industry response to the talent crisis where everyone has come together to create this platform where we looked at what are the key emerging technologies that will have the immediate impact on jobs in India and what will be the impact of this disruption. So we identified something like 10 technologies which would create something like 156 new jobs. Frankly, those jobs have already been created..and then we work backwards to figure out what should be the skills required for us to get people-ready for these new jobs.
So it's a huge effort. Companies are working with us not just to get employees re-skilled but also to contribute to the content. The secret sauce at Nasscom is our ability to leverage the ecosystem, to bring together the most fierce competitors and get them to collaborate. It's happening all over again to solve this crisis which is facing the overall industry.
When you talk about skills and scale skills up tradition so that also presumes in a positive way that people can be skilled. Earlier, the fear was we will not be able to up-skill for these new technologies and new requirements whether it's artificial intelligence (AI) or broadly the digital space.
I won't use the word easily, people can absolutely be trained. You need to have the foundation science, mathematics etc..but you absolutely can be trained. It does take a lot of hard work so I will not say it easily.
I myself am going for some of the future skill courses. It takes a lot of hard work. It takes a lot of time especially given that I come from an economics background. But absolutely I can relate and learn. So, yes the good news is it's possible to pick up new skills.
And large companies, including the largest GCC's or others are investing their own funds, everyone is investing..?
Everyone is and across the industry this year. Learning and development investments have gone up by over 25%.This year; the industry has trained 600,000 of its workers on these new skills. So, this is pretty much priority one across the board
These are organisations who in some ways can take care of themselves. You are also working at the other end of the ecosystem - how do we find the next big idea, the next big enterprising entrepreneur and link into this ecosystem ?
Absolutely, I think talent and innovation sort of its going hand-in-hand today. While we address the talent pool we also have to ensure that we build and strengthen India's appetite for innovation and that's where a lot of startup work is going on. But if you think of it, in today's world the rules of innovation are changing. Innovation is about co-creation, about collaboration.
We are not organically very good co-creators and collaborators. We are taught in an education system where it's the survival of the fittest. You don't share, you don't talk to the other person. For us it's going to take a little mindset change to adapt the new rules. That is hard work. Frankly, changing mindset is the hardest of all work.
How do we create that innovation mindset? For example, the work with startups that we are doing..India is obsessed with numbers. We want to be first, we want to be second, how large are we as a startup ecosystem ? To me, honestly, that has very little meaning because we can continue to be a large ecosystem of startups but then keep in mind more than half of startups fail.
What we have to start focusing on is where do we become the best, how do we become the best ? If we can't become the best everywhere we have to pick areas that matter the most for India. I am sure that will matter a lot for the world too. Our national obsession should be: the Indian startup ecosystem is absolutely the best.
And I heard you say recently voice is something that we should be focusing on..
I am so excited about voice and its impact on India, I mean imagine a country where more than half the population, I mean first of all everybody speaks a different language. Second, there's still a large part of the population that cannot read and write but they are beginning to get access to technologies.
Phones are reaching the last mile, broadband is reaching the last mile, now it will be a shame if you cannot use that for beyond just saying hello to each other because they cannot read and write. Imagine the difference it can make if we can really start moving from text to voice in India. This to me this will be the next phenomenal big thing in India.
And all of this, I mean the education, the scale is the innovation push the startup support needs some, I mean not too much perhaps but some amount of clear Government regulation , clear direction.
I think you need Government in a movement, we shouldn't see regulation come later. It needs Government enablement for the innovation ecosystem in India. I say innovation broadly and not start-ups because it's much more than start-ups.
The innovation ecosystem in India is evolving fast and it has tremendous potential. What you need to ensure right now is how do you enable it, support it. That's the mindset I want Government to start adopting that even as we think through regulation today, regulation should be to enable the ecosystem .

And you have used the word disruption of the current regulation system.
Totally, I think the current regulation system is outdated. There is no other way of saying it. It is outdated, it needs disruption.
Give us an example..
Think of all the regulation that's coming into play on the tech front right. First of all nobody knows how to regulate technology and this industry has been largely regulated. We have done a lot of self-regulation in the past right. Now, with data coming into play and becoming the centre piece of every conversation there is a lot of focus on regulation and what needs to get regulated and who needs to be regulated.
Nobody knows the right answer. Neither Government nor industry at this stage so the best way forward is consult, talk to each other, try to figure out what's the right way to do it. So while you regulate, you do not kill innovation. You do not kill India's ability to become and we already are the preferred hub for R&D. We should just strengthen, how do we get all the companies coming to India to build their own R&D centres not just for the world but also for India ?
So, I think we have to think through some of these things as we regulate. We definitely need a consultative approach and a more experimental approach because in today's world we cannot say that this is my regulation and its going to last for 50 years. You are doomed for failure.
You have to be able to go back and look at what's working and continue. It has to be an iterative process. You have to continue to change it, you have to be ok to say this didn't work so; I am going to stop this. So, therefore the term I use as a sandbox we really need a regulatory sandbox approach and mindset in India.
Last question. What are the one or two things that are top of your mind as we go into 2019/20 in terms of either threats or opportunities or both?
I will talk about opportunity. The biggest opportunity in front of India is to become the centre for digital talent for the world. I do not say this frivolously, I say this very seriously because India is one country that has surplus now.
All of who are part of the Indian education system, we keep looking back and saying oh my God the system is not good, it is rigid. But we cannot ignore the fact that it builds very strong foundations in science, mathematics, the basics and that is needed.
So, today we look at it , I mean I will give one classic example that everybody associates H1-B visas with Indian companies so, every time there's a H1-B news everyone will say Indian companies are doomed.
Fact is Indian companies take less than 13% of H1-B visas but majority of these visas go to Indians but they are being taken by companies sitting in US, Europe etc. because we have the talent. I think it's a huge advantage now. Equally, we cannot bask in that glory because talent requirements are now changing. How do we now change this advantage that we have in STEM (Science, Technology, Engineering & Mathematics) to the digital advantage, talent advantage. It's doable.
The World Economic Forum has recently come out with the future of work-study. The bad news - more than 50% of Indian employees have to be re-skilled. Good news - elsewhere too, more than 50% have to be re-skilled. Even better news for India, it will take us less than one year to re-skill if we seriously make it a priority.
So my suggestion to Government is to make this the national priority. Industry & Government have to join hands and we have to make this number one, I mean pretty much job number one for India. Because if we do this, this is what gets us the leadership we have been talking about. How do we become leaders in artificial intelligence (AI), how do we become leaders in deep technology. This is what gets us the leadership and we have to take this really seriously.
That's a good note to end on. Thank you so much for speaking with us.
Debjani Ghosh: Thank you very much.
Do you always want to share the authentic news with your friends?
Subscribed Successfully...
Enter Valid Email Id