Is This A Video Of Indian Soldiers Torturing A Kashmiri?: A FactCheck
Pakistani journalist Hamid Mir shares video alleging excesses by the Indian Army in Kashmir. However, the video appears to be from Pakistan.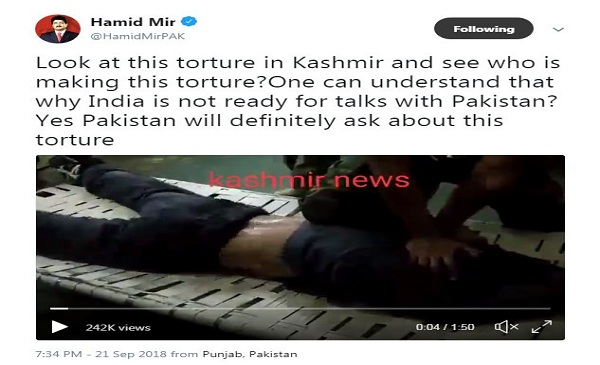 A video tweeted by Pakistani journalist Hamid Mir on September 21st alleging the torture of a Kashmiri man by Indian soldiers appears to be from Pakistan, an analysis of the video by BOOM has revealed.
The graphic video clip shows a small group of soldiers flogging a man whose wrists and ankles are bound to a cot. The men, whose faces cannot be seen throughout the clip, use brute force to spank the man's buttocks repeatedly. At least four men appear to be involved in the beating while the boot and leg of a fifth man can be seen seated at a distance, witnessing the beating.
The soldiers can also be heard speaking in Hindi while asking the man to reveal the name of his commander. One of the men holding him down asks him, "bata diyo (tell us )". When the man replies "nahi pata" (don't know) he is hit more. Towards the end of the video, one of the men can be heard saying, "Commander ka naam bata. Bata de" (tell us the name of the commander, say it) to which the man on the cot again denies knowing anything.
Mir tweeted the video on Friday taking a dig at the Indian government alleging that it was why New Delhi cancelled diplomatic talks with Islamabad. The scribe also wrote that Pakistan would raise questions about the 'torture' captured in the video.
Note: The below video contains violence. Viewer discretion is advised.
Look at this torture in Kashmir and see who is making this torture? One can understand that why India is not ready for talks with Pakistan?Yes Pakistan will definitely ask about this torture pic.twitter.com/C0nlj0MZP4

— Hamid Mir (@HamidMirPAK) September 21, 2018
Mir's tweet received over 13,300 Likes and close to 9,700 retweets at the time of writing this story
In the comments sections, several Twitter users maintained that the video was from Pakistan and not India. A few users also commented that the flogging is part of the Survival Evasion Resistance and Escape (SERE) training given to Pakistan's Special Forces.
But a closer analysis of the video by BOOM shows that the soldiers in the video are not Indian. At 7 seconds in the video, a crescent and a star, part of Pakistan's flag, can be seen on the t-shirt of one of the men pinning down the man with his knee and hands locked over the man's back.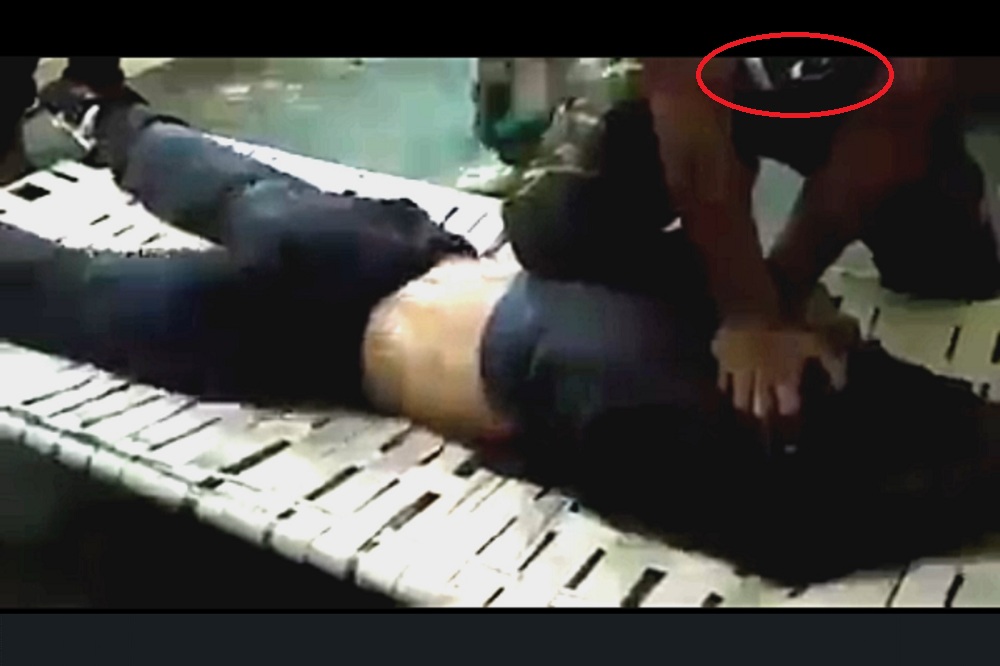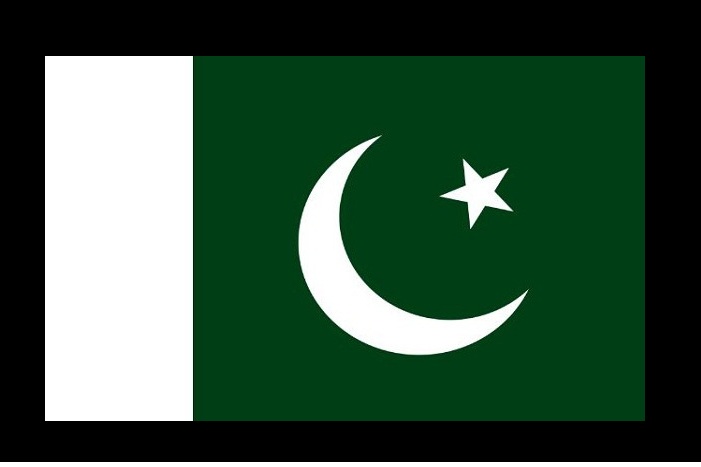 Pakistan's flag
BOOM also found three instances of the video posted online between July and August this year with different captions. However, all three posts refer to the video as that of Pakistan's army.
On July 4, 2018 it was tweeted as 'Pakistan's army torturing an innocent Baloch student'.
Please Have a glance: inhuman and degrading treatment of cruel #PakArmy physical torture of innocent #Baloch student. Plz, act trough, General Assembly resolution 39/46 of 10 December 1984. in accordance with article 27 (1) @unhcr @hrw @UN @UNHumanRights pic.twitter.com/d3bjyNAEf3

— Sher Mohammad Bugti (@SherM_BRP) July 4, 2018
A Facebook page called Shahab Baloch also uploaded the same video on July 5, 2018 with the caption, "Torture of a young Baloch by Pakistan Military."
Other descriptions of the same video in August stated that it was a video of the training imparted to the Special Service Group (SSG) an elite commando force within the Pakistan Army.
A YouTube channel called 'United States of Pakistan' uploaded the video on August 29, 2018 with the caption, "PAK ARMY K SSG COMMANDOS KI TRAINING KI KHOFNAK VIDEO MUST WATCH" which translates as 'Pakistan Army's SSG commandos' scary training video must watch'.
BOOM was able to find other SSG training videos on YouTube which show similar flogging being handed out to SSG hopefuls. In a video titled 'SSG Interrogation Survival Training', a man wearing an army uniform is tied to a cot while four other soldiers in similar attire flog him.
The cot in the video shared by Hamid Mir and the YouTube video appear identical and the way of pinning the man down and the pauses taken in the beating meted out is similar.
https://youtu.be/eQzC35JIk7c
A video clip titled 'Pakistan Army SSG Commando Training| OMG|' of only the flogging reveals that the interrogation was done in Hindi spoken with a Punjabi accent.
https://youtu.be/_ce60FObcko
Here the insignia of Pakistan's flag is clearly visible in the video.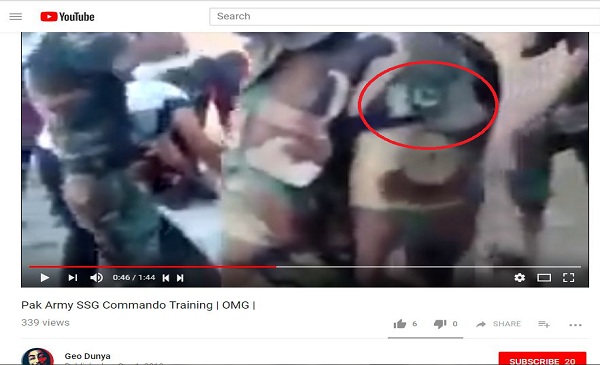 Finally we were also able to find a tweet by the account Pakistan Defence (@defencedotpk). Pakistan Defence is an online forum that posts about topics related to the country's defence forces and geopolitical affairs. It is run by an international think-tank, according to its Facebook page. While the account is not official it has over 1,05,000 followers on Twitter and is known to tweet pro-Pakistan and anti-India content.
Pakistan Defence quote tweeted Hamid Mir's tweet and said, "This video belongs to Special Service Group (SSG) of Pakistan Army. It is a necessary part of a training module called "torture proofing" under the SERE training regime. Every SSG trainee is subjected to torture. This video has been used with wrong descriptions by many people."
However, the account later deleted the tweet. Click here to view an archived version of the profile that retweeted Pakistan Defence's tweet.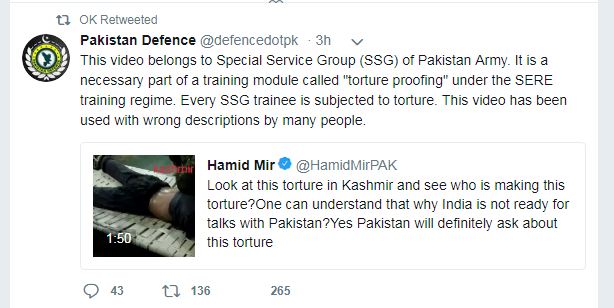 Claim Review :
Video Of Indian Soldiers Torturing A Kashmiri
Claimed By :
Pakistani Journalist Hamid Mir