Explainers
India Rape Crisis: 4 in 10 Victims Were Minors, Conviction Rate Below 30%
4 in 10 female rape victims were minors; 1 in 10 female minor victims was below the age of 12, according to 2016 crime data.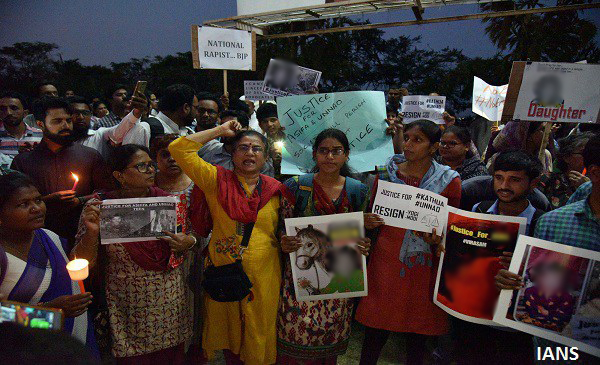 Hyderabad: People participate in a candle light vigil organised to express solidarity with Kathua rape and murder victim, in Hyderabad on April 13, 2018. (Photo: IANS)
The Kathua and Unnao rapes have once again brought into focus the safety of women, particularly children, in the country. Both Jammu's Kathua, where an 8-year old was allegedly gang-raped and murdered, and Uttar Pradesh's Unnao, where according to media reports the victim was below 18 years of age when the alleged rape happened, call for a look at how safe are Indian children from sexual violence.
BOOM looks at data from the National Crime Records Bureau (NCRB), last available for 2016.
4/10 victims are children
NCRB data shows that around 30-40% of the times, children (age – 0-17) are the victims of rapes. In 2016, 43.3% of the total female rape victims were minors.
Source: Crime In India 2012-16, NCRB, Note: NCRB does not have combined data for male and female victims as Indian rape laws only address rape of minor males and not adult males.
In 2016, around 13% (2,116) of the minor female victims were of age 11 and below. The deceased victim in the Kathua rape case, was also eight years old.
Source: Crime In India 2016, NCRB
Though specific data is not available with respect to child rapes, data shows that in most cases the perpetrators are known to the victims. In 94.6% of the rape cases reported in 2016, the offenders were known to the victims.
Protection of Children from Sexual Offences Act (POCSO)
Sexual violence against children are reported under Protection of Children from Sexual Offences Act (POCSO) which was enacted in 2012. Before the introduction of POCSO, child sexual abuse was addressed under IPC such as sections 375 & 376 for rape and section 377 when the child is a boy.
The Act was brought into place to address the increasing cases of sexual abuse and exploitation of children and also to make sure that the law operates in a child friendly manner. It covers crimes such as child rape, sexual assault and harassment and using children for pornography. The act is gender neutral and mandates reporting of sexual violence of all forms – touch and non-touch behaviour. It is important to note that, the Act uses the term 'sexual assault' instead of 'rape'.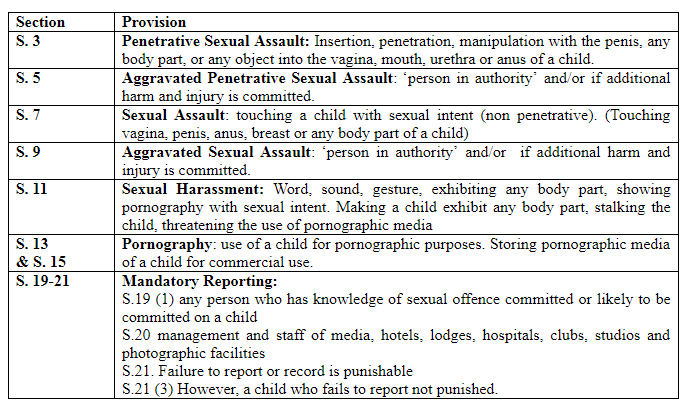 Screenshot from PIB release dated January 2015
Despite POCSO being enacted in 2012, police continued using IPC sections to register child rapes. This changed only post January 2013, when anti-rape laws became stringent in the aftermath of the horrific 2012 Nirbhaya gang rape and murder case in Delhi. NCRB started collecting crimes under POCSO separately only from 2014.
On an average, around 100 crimes were reported in a day under POCSO Act in 2016. The total incidence of crimes reported under POCSO stood at 36,022.
Crime rate under POCSO was 8.1. Crime rate refers to crimes recorded per 1,00,000 population, in this case it refers to child population.
Of the total POCSO crimes reported, 55% (19,765) or more than half were child rapes / penetrative sexual assault . Around 34% (12226) were sexual assault, 3% (934) – sexual harassment and the rest were using children for pornography and other crimes.
Child rapes / Penetrative Sexual Assault
Data shows that reported child (minor) rapes have doubled over a period of five years to 19,765 in 2016 from 8,541 in 2012. Minors are persons of age 17 and below.
Source: Crime In India 2012-16, NCRB
The increase in number of rapes could also be due to the change in the definition of rape and the introduction of POCSO.
Post the occurrence of Delhi rape case in 2012, the definition of rape has been widened under Justice Verma Committee to include more sexual violations 'beyond the conventional peno-vaginal penetration to include crimes which did not amount to rape under the IPC'. Penetrative sexual assault / Rape now refers to 'Insertion, penetration, manipulation with the penis, any body part, or any object into the vagina, mouth, urethra or anus of a child / woman'.
Under POCSO, rape of male children are also being reported.
Child rape cases in states
Madhya Pradesh reported the highest number of child rapes at 2,467 followed by Maharashtra (2,292) and Uttar Pradesh (2,115).
However, crime rate which is a better measure of the prevalence of crime shows that Sikkim leads with a crime rate (of child rapes) of 32.5 followed by Mizoram (26.7) and Delhi (14.5). The following graph has not included union territories other than Delhi. The national average crime rate for child rapes stands at 4.4.
Source: Crime In India 2012-16, NCRB
In case of all POCSO crimes, Sikkim again leads with a crime rate of 45.3 followed by Delhi (28.9) and Kerala (19.8) while the national crime rate is 8.1.
Less than 30% conviction in court
In 2016, out of the 26,898 cases of child rapes for investigation, which includes pending cases from the previous year, police disposed off 18,439 cases and 8,459 (31.4%) cases are still pending. Of the cases disposed off, chargesheets were filed in 94.8% of the cases.
In 2016, out of 64,138 cases of child rapes for trials in courts, trials were completed only in 6626 cases and 57,454 (89.6%) cases are still pending. Of the cases in which trials were completed, offenders were convicted only in 28.2% of the cases.
In the cases of total crimes under POCSO, 4.8 lakh and 10 lakh cases were on the tables for the police to investigate and court to conduct trials, respectively. The charge sheeting rate stands at 94.2% and conviction rate at 29.6%. And, 31.8% of the cases are pending with police and 89% at the courts.
The national average for conviction rates of all IPC crimes stands at 46.8%, above that of POCSO cases, while pendency rate are lower at 87.4%.
Do you always want to share the authentic news with your friends?
Subscribed Successfully...
Enter Valid Email Id