Fake Google Job Offer: Mystery Deepens As Parents, Principal Blame Each Other
Harshit's school principal slams his parents for 'lying to the media'. She says circular was issued only after Harshit showed them an offer letter from Google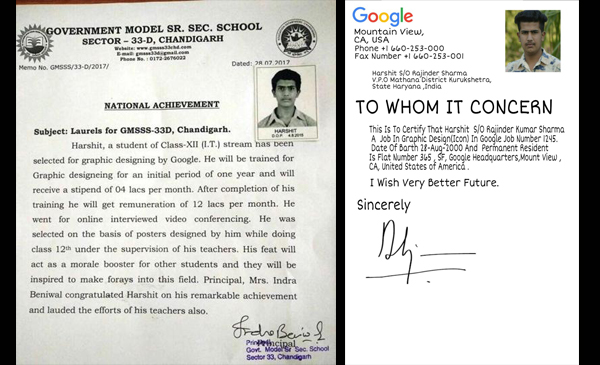 Indra Beniwal, principal of Government Model Senior Secondary School, Chandigarh has hit out against the parents of 16-year old Harshit Sharma for statements in the media blaming the school for the hoax Google job offer controversy. In an interview given to Hindustan Times, Bharti Sharma claimed that while they were certain that the job offer was a hoax, they thought of the offer as genuine only when the principal of the school released a press note which led to media coverage.
On Wednesday, BOOM reported the school issued a circular confirming Harshit's appointment on the basis of a fake job offer letter by Google.
Speaking to BOOM, Beniwal refuted the claim and said that Harshit first spoke to a teacher and showed her a letter that endorsed that he had got a job from the world's largest technology company. When asked how they could believe the letter riddled with spelling mistakes, Beniwal said, "The letter released later was sent to us on WhatsApp by Harshit. The initial letter shown to the teacher was different."
"Why are they lying to the media? Why are they in hiding if they are speaking the truth? I have seen videos where they are seen celebrating the job offer. The school only came in the picture once the boy showed us the letter. I do admit that as a principal I made a mistake in issuing a circular without cross checking the letter on my own," said Beniwal to BOOM.
Interestingly, Harshit Sharma in an interview given to a local media channel before the hoax was discovered did mention that he thought his job at Google was confirmed after he got a congratulatory message from the principal of the school.
All efforts to reach Harshit or his parents failed as their numbers were unreachable.
There is no doubt that the school also has to take part of the blame for issuing a circular without checking all the facts. Beniwal could not explain why her circular issued on July 28 called Harshit a 12th standard student while he had already passed out of the school in June this year.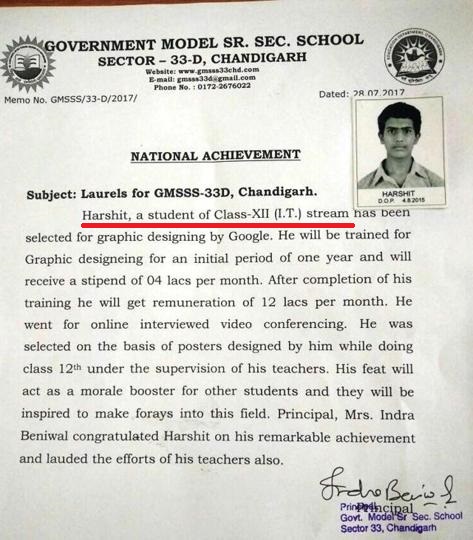 Screenshot of the school circular
Chandigarh's education department also issued a circular lauding Harshit's efforts and have been left red-faced once Google clarified to reporters that no such offer was issued by them.
Repeated calls through the day to Rubinderjit Singh Brar, director, school education went unanswered despite requests for an interview.
Harshit Sharma, a Class 12 student of Government Model Senior Secondary School, Sector 33-B (GMSSS – 33D), Chandigarh went from hero to villain in a couple of days after widespread media reports that Sharma has been selected by Google for "graphic designing" and would fetch a monthly salary of Rs. 12 lakh, once his year long training was over. Harshit's story that was given veracity by statements by his school and Chandigarh Administration went viral in India with several leading English and Hindi dailies running the story.