Did A Bangladeshi Accidentally Burn To Death While Celebrating India's World Cup Exit?
BOOM found that the images are old and unrelated and no such incidents were reported in Bangladesh in the past one week.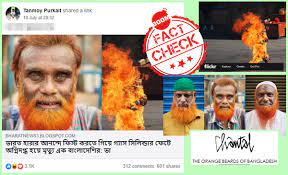 A set of two old and unrelated images are viral on social media with a false claim that a man in Bangladesh burnt to death while celebrating the Indian cricket team's defeat to New Zealand at the World Cup semi finals, last week.
The posts claim that a man named Shaikh Mujibur, who had arranged an elaborate feast to celebrate the forgettable performance of the Indian cricket team, accidentally burnt to death when a cooking gas cylinder exploded.
The post has been captioned as, 'Bangladesh's Shaikh Mujibur arranged an elaborate feast to enjoy India's loss in the semi-finals. But Allah did not agree and he died when the gas cylinder burst and fire engulfed him.'
(Original caption: सेमीफाइनल में भारत के हारने की जबरदस्त खुशी में #बांग्लादेश के #शेख_मुजीबुर ने जश्न मनाने के लिये दावत का इंतजाम किया। लेकिन अल्लाह को ये मंजूर नहीं था और गैस सिलेंडर फटने से #मुजीबुर तंदूरी मुर्गा बनकर जलकर खाक हो गया। )
The archive of the post can be viewed here.
The same narrative is viral in Bengali where netizens have linked a blog to the Facebook post.
The post can be viewed here.
Fact Check
BOOM found that the blog mentioned in the Bengali Facebook posts credits the news item to bdnews.com. However, no such website could be found. The blog mentioned that the incident happened at night, around 11 pm, in Bangladesh's Khulna, where 57-year-old Shaikh Mujibur lost his life.
We then ran a keyword search with a custom ranged time both in Bengali and English, however, no reports of cooking gas tragedy that occurred in the recent past could be found.
Misleading Images
BOOM ran a reverse image search on both the images and found that they are unrelated and misleading. The photo of the man, identified as deceased Shaikh Mujibur, has been taken from photographer Chantal Aimée Ehrhardt's 2017 collection of 'Orange beards of Bangladesh'.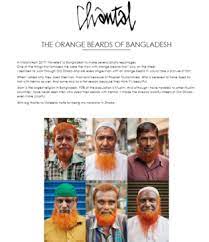 Below is an excerpt of how the photographer described the collection.
"In March/April 2017 I travelled to Bangladesh to make several photo reportages. One of the things that amazed me were the man with orange beards that I saw on the street. I decided to walk through Old Dhaka and ask every single man with an orange beard if I could take a picture of him. When I asked why they dyed their hair, most said because of Prophet Muhammed. Who is believed to have dyed his hair with henna as well. And some said as a first reason because they think it's beautiful."
The second image was found in photographer Bill Townsend's Flickr account. The image was taken in January, 2007. BOOM also found that the exif data of the image matches with the metadata of the photo provided on Flickr.

BOOM has reached out to both the photographers. The article will be updated upon receiving a response.
Claim Review :
A Man Immolates Himself In Bangladesh While Celebrating Indias Loss In The Cricket World Cup
Claimed By :
FACEBOOK POSTS