Fact Check
Day 2 In Politics: Photoshopped Image Of Rajinikanth Surfaces
No, that's not Rajinikanth's 'spiritual politics'. That's photoshop.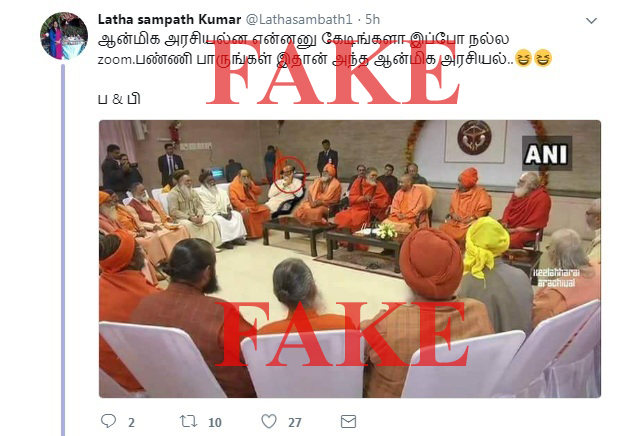 Barely 48 hours since he announced his entry into Indian politics, a photoshopped image of Rajinikanth was doing the rounds of WhatsApp and Twitter on Monday.
The image shows the Tamil movie star seated at a meeting with Uttar Pradesh Chief Minister Yogi Adityanath in attendance. The photo also has a watermark of 'Keelakarai Arachiyal' or Keelakarai politics. Keelakarai or Kilakarai is a place in Tamil Nadu. Although there are a few accounts on Twitter which offer a sarcastic commentary on Tamil Nadu politics, it is not clear which account was behind the photoshopped picture.
The text in Tamil roughly translates as 'you asked what is 'spiritual politics'? Zoom in properly and see what is 'spiritual politics'.
'Spiritual politics' is a direct reference to Rajinikanth's speech to his fans and journalists on Sunday in which he promised a brand of politics free of religion and caste.
"It's time for political change. Time to change the system. We have to create a spiritual politics with no caste and religion barriers," the Indian Express quoted Rajinikanth as saying.
The original photo taken by wires news agency ANI clearly does not have the actor in it.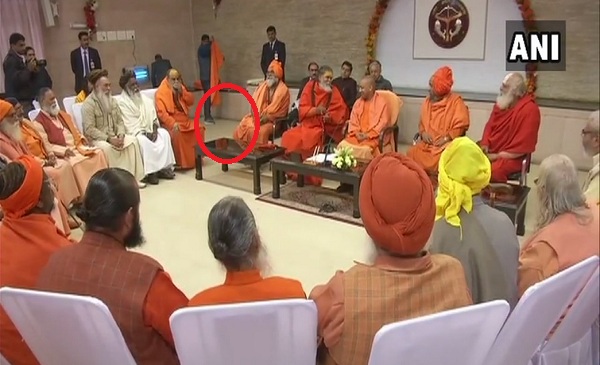 ANI described the image as Adityanath meeting representatives of the Akhada Parishad at his residence in Lucknow.
CM Yogi Adityanath met representatives of Akhada Parishad at his residence in Lucknow pic.twitter.com/OHSN4RvVNt

— ANI UP (@ANINewsUP) December 31, 2017
A second tweet on the same thread says the meeting was about Hindu seers offering their help to the Uttar Pradesh government with preparations of the 'Magh Mela' and 'Kumbh Mela.'
Saints have come to extend help to government so that Magh Mela & Kumbh Mela are successfully organised. I am feeling happy that representatives of Akhada Parishad came here. I will also visit Magh Mela in January to check the arrangements: CM Yogi Adityanath in Lucknow pic.twitter.com/pm2dd1n0ot

— ANI UP (@ANINewsUP) December 31, 2017
A separate video of Rajinikanth meeting Swami Gautamananda, the head of the 'Ramakrishna Math' at Mylapore was also shared on Twitter.
https://youtu.be/Gw_cZRoRh9A
According to Eenadu India, the meeting took place on January 1st, 2018 which also commemorates the day when followers believe that Ramakrishna revealed himself to be an Avatar, Eenadu reported. Click here to read Eendau's story.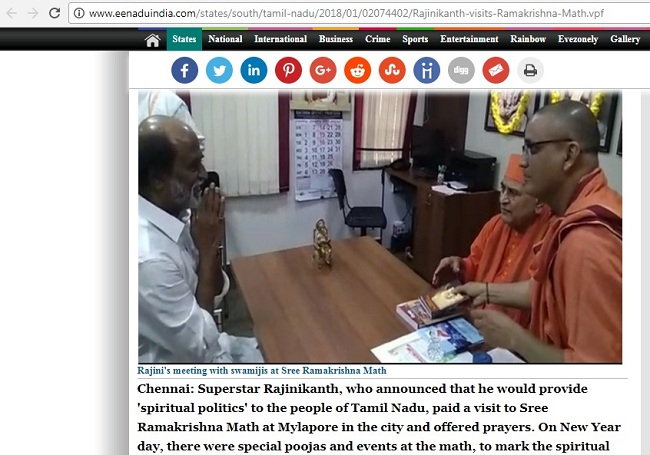 The actor announced his foray into politics on December 31st and said he would form his own political party and contest from all 234 seats in the next assembly election. Political observers have called Rajinikanth's timing perfect due to the current vacuum in Tamil Nadu politics in the post-Jayalalithaa era and DMK chief Karunanidhi's ill health. The BJP and particularly the RSS are also watching his moves closely as compared to the Dravidian era politics when atheism was revered, Rajinikanth has never shied away from visiting temples and meeting religious figures. For the BJP that has negligible presence in the state, the entry of Rajinikanth couldn't have come at a more opportune time to disrupt the two-party politics in a very important southern state.
Do you always want to share the authentic news with your friends?
Subscribed Successfully...
Enter Valid Email Id