Crocodile Spotted During Bihar Floods? Video From Gujarat Shared As Patna
BOOM found that the video is a two month old footage of a crocodile straying into a residential area in Gujarat.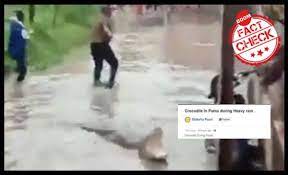 A video of a crocodile being rescued from a flooded street in Gujarat's Vadodara, is viral with the false claims that the animal was spotted in Patna, Bihar during the recent floods.
Bihar received heavy rainfall in three districts in the past 48 hours. At least 29 people have died due to multiple mishaps following the downpour.
BOOM received the 20 second long footage on its WhatsApp helpline number (7700906111) for verification.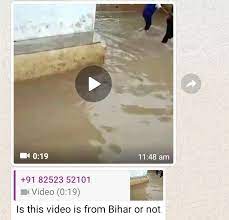 A Facebook page, Shiksha Point, shared the clip with the caption, "Crocodile In Patna during Heavy rain." The post has garnered more than 14000 views at the time of writing the article.
Click here to view the post, and here for an archive.
The post is viral on multiple Facebook pages as 'crocodile spotted in Bihar.'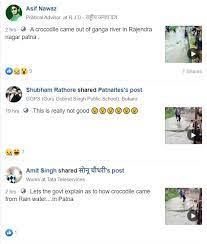 ABP News airs viral video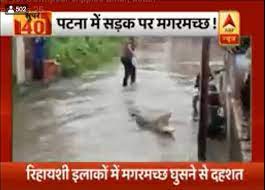 Click here to view, and here for an archive.
ABP News aired a segment of the viral video on it's news bulletin - 'Super 40' at the 45 seconds timestamp in this video uploaded on Facebook.
FACT-CHECK
BOOM broke the video into key-frames and ran a reverse image search and was directed to a news bulletin by NDTV, that was uploaded to YouTube on August 3, this year.
The visuals of the viral footage in the video can be seen in the news bulletin by NDTV starting from the 10 second mark.
The footage was shot during the floods that hit Gujarat early in August this year.
NDTV described the video as, "Chilling Crocodile Rescue From Flooded Street In Gujarat". It further stated, "Battered by heavy rain, Gujarat's Vadodara saw a dramatic "rescue" this week - not of humans or pets caught left stranded by rising water levels, but that of a crocodile. Four people have been killed and thousands evacuated after record rain in Gujarat's Vadodara. The city received 500 millimeters of rain in 24 hours. Overflowing rivers brought crocodiles out on streets, creating a frightening situation for residents."
"A 10-feet-long crocodile which strayed in residential area was rescued by the combined efforts of the National Disaster Response Force (NDRF) and forest department officials," reported Times of India on August 3, 2019.
Similar visuals from a different angle can be can be spotted in this TOI video uploaded on August 5, 2019.
BOOM had earlier fact-checked videos of crocodiles straying into residential areas.
ALSO READ: Crocodile Rescued From Ratnagiri Drain Shared As Mumbai
No, This Video Does Not Show Gujarat's Vishwamitri River Teeming With Crocodiles
Claim Review :
Crocodile During Flood In Patna, Bihar
Claimed By :
Facebook Posts