Fact Check
Child Kidnapping Rumours Revived With Unrelated Images, WhatsApp Audio Messages
Child kidnapping rumours make a comeback. This time with a message in Malayalam.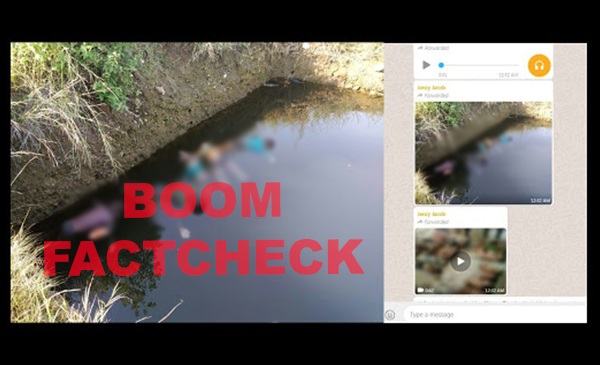 Two unrelated images shared on WhatsApp falsely claim that an organ harvesting racket targeting children has been busted by police in Tamil Nadu.
A gruesome image showing the bodies of five children floating in a well is being shared with an audio message in Hindi that alleges Tamil Nadu police found the bodies of children inside a cargo container after their organs were harvested. The fake message claims the children were abducted from different countries and trafficked to India.
The same message has also been dubbed in Malayalam now. (BOOM has decided not to embed the audio clips in its story as a precaution against it being misused)
The photo in the message is from October this year taken at Barwani district of Madhya Pradesh and features in an article dated October 10, 2018 by Hindi newspaper Patrika. Click here to read Patrika's story.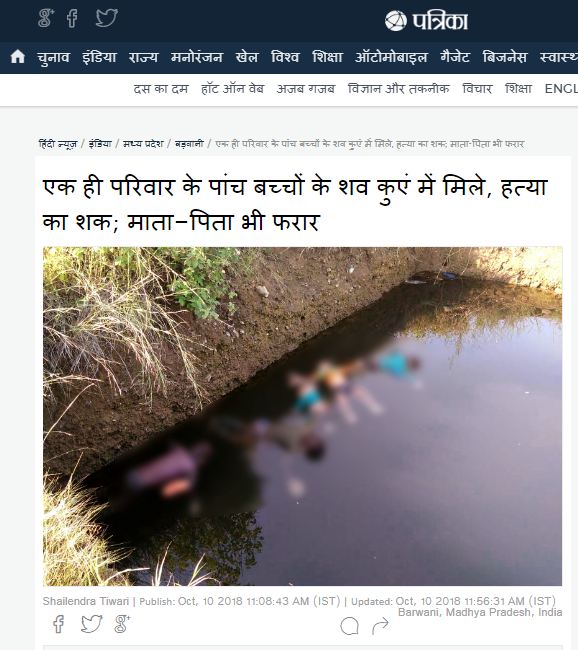 Five brothers, all below the age of seven, were found dead in an open well at a village 400 km from Bhopal, the Indian Express reported on October 10, 2018.
Their father a labourer named Bhatar Singh has two wives. While four boys were born to first wife Sungi Bai, the youngest of the five was born to Singh's second wife Sunita. Singh along with his first wife were said to be missing since the incident came to light, media reports said.
Local police were not immediately available for comment. BOOM will update the story upon receiving a comment.
A video from Eenadu India also proves that the photo is unconnected to supposed child kidnappers in Tamil Nadu.
https://youtu.be/xfIwCTzdNFk
The second photo showing rows of bodies of little children is from a chemical gas attack in Ghouta, Syria in August 2013 and was debunked by BOOM in 2017. (Click here to read the story) Deadly nerve agent 'sarin' was used in an attack on the Ghouta agricultural belt around Damascus on the morning of August 21st 2013.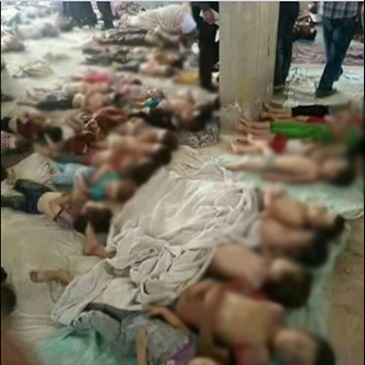 The disturbing photo went viral in late 2016 and early 2017 to spread a hoax about organ harvesting in Thailand and Malaysia. American fact checking website Snopes debunked the rumour in Dec 2016. (See Snopes' story here)
Rumours of child abductors particularly on WhatsApp have had brutal real world consequences in India where at least 25 people were lynched by mobs in separate incidents, this year alone. Over 30 people have been killed over child kidnapping rumours since 2017, data shows. In all cases, the victims were attacked on mere suspicion with police finding no evidence of the victims being child kidnappers.
BOOM was the first news organisation to debunk child kidnapping images and videos in India including infamous the cropped Pakistani ad that was shared as CCTV footage of an actual abduction, in May 2017. Read the story here.
Claim :
Organ Harvesting Racket Targeting Children Has Been Busted By Police In Tamil Nadu
Claimed By :
Social Media
Do you always want to share the authentic news with your friends?
Subscribed Successfully...
Enter Valid Email Id