Bengaluru's Modi Masjid Named After PM Modi And Other News You Almost Believed
In this week's News You Almost Believed, we bring you the truth behind viral photos and videos.
Here's this week's round-up of the News You Almost Believed.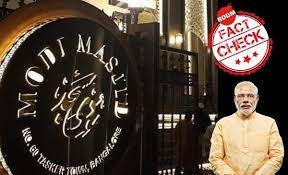 A photo of Modi Masjid, a Bengaluru mosque, is viral on Twitter with claims that the mosque has been named after Prime Minister Narendra Modi. The tweet has a set of two unrelated images – a signboard of Modi Masjid and an interior shot of a mosque in Indore. But the claim is false as the mosque was built almost 170 years ago. Read the full story here and get to know the facts behind both the images.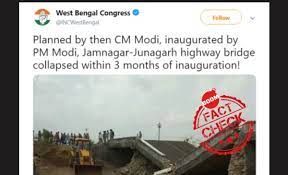 A photograph of a collapsed bridge on the Junagarh-Jamnagar Highway is viral on social media with claims that it was recently inaugurated by Prime Minister Narendra Modi. The West Bengal Congress' official Twitter handle also tweeted the same image with a similar claim that the Jamnagar Junagarh Highway bridge collapsed, only three months after its inauguration by PM Modi. But BOOM spoke to the chief engineer, Roads and Buildings Department, Gujarat Government, and found that the bridge collapsed as it was more than 40 years old. Read the detailed story here to know more facts.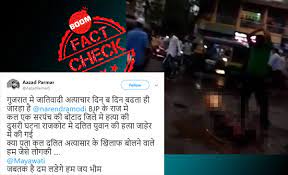 A disturbing video of a man being hacked to death in broad daylight, is viral on Twitter with claims that a dalit sarpanch was killed in Botad district of Gujarat on June 19. But BOOM found that the video is originally of a man who was hacked to death in Surat, Gujarat, on June 18, 2019 for being a reported informer of the police. Read the story here for details.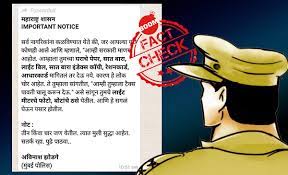 A message is circulating on social media claiming Mumbai police has issued a warning to citizens to be careful of a gang who under the guise of being government officials ask for identification documents and thumb print to generate a tax receipt, but then abscond with the details. The message is fake and when BOOM contacted Mumbai police spokesperson, DCP Manjunath Singe, he denied that the Mumbai Police had issued any such circular warning citizens. "Mumbai Police has not put out this message about any such gang," said Singe. Read the full story here.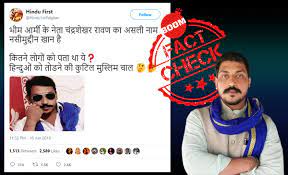 A Twitter account named 'Hindu First' claimed that Bhim Army chief Chandrashekhar Azad's 'real' name is Naseemuddin Khan. Azad took to Twitter to rubbish the viral post. But Azad took to Twitter rubbishing the false claim tweeting, "I have not stopped laughing since I read this post. Well, the name Naseemuddin is not bad." Read the story here.