Akhila To Hadiya: All You Need To Know About The Kerala 'Love-Jihad' Case
How Akhila's conversion to Islam to become Hadiya turned into a national issue. All you need to know about this complex case.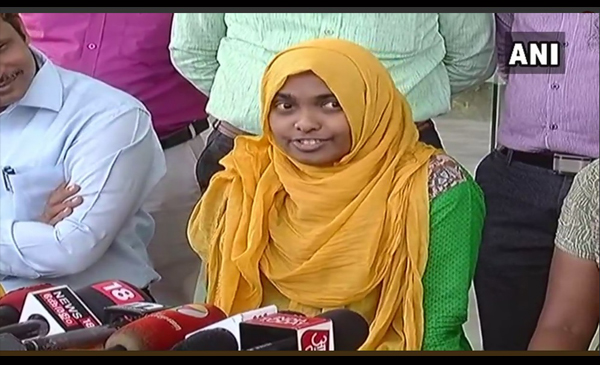 Hadiya's, earlier known as Akhila, decision to embrace Islam and marry a Muslim man has become a national issue. This case, widely referred to as the Kerala Love-Jihad case', has taken several twists ever since her father filed a habeas corpus petition in the Kerala High Court. The case which was under National Investigation Agency's (NIA) probe has a new development. The central counter terrorism agency has revealed on December 4, 2017 that Shafin Jahan, Hadiya's husband, was in touch with two men who were chargesheeted for having links with ISIS.
BOOM answers key questions and traces the twists and turns in this complicated case.
Who is Hadiya?
Born to a Hindu family in Kottayam district of Kerala, Akhila Ashokan, converted to Islam to become Hadiya. The 24-year-old was pursuing a Bachelor of Homeopathic Medicine and Surgery degree at a private college in Salem, Tamil Nadu when she decided to convert to Islam.
Why is Hadiya in the news?
Hadiya has become the face of the religious conversion debate in Kerala. Hadiya's case is a Pandora's box which has opened up discussions on conversion, ISIS links in Kerala, freedom of one's choice of religion and marriage and patriarchy.
The case first gained attention as a case of forced conversion. Hadiya's parents moved court when she officially became a Muslim. It got murkier when Hadiya married a Muslim – Shafin Jahan, after which angles of religious extremism with suspected links to ISIS and plot of 'Love Jihad' got thrown into the mix.  'Love Jihad' is a term coined by right-wing Hindu groups which refers to a sinister conspiracy of Muslim men to lure Hindu women into marriage and having children. Since then the case has moved from the Kerala High Court to India's Supreme Court. Hadiya's case is also linked to what is happening in Kerala. Kerala has been in the news in recent months for sporadic reports of ISIS recruits from the state to fight in countries such as Syria and Afghanistan.
How did Akhila become Hadiya?
Akhila, born to an Ezhava family from Vaikom of Kottayam district in Kerala, did her schooling in her home town. At the age of 18 she joined Sivraj Homoeopathic Medical College in Salem, Tamil Nadu to pursue a Bachelor's in Homeopathic Medicine and Surgery in 2011.
After a year of stay in the college hostel, she shifted to a rented home with her friends, including sisters Jaseena and Faseena.  Her introduction  to the Islamic faith happened through Jaseena. Impressed by the timely prayers and conduct of these sisters, Hadiya developed an interest in Islam. Her affidavit stated that Islam's concept of one God appealed to her and cleared her doubts on multiple Gods as per Hindu faith and her confusion as to which God to pray to.
In September 2015 she began the formalities to officially convert to Islam and in November her parents get to know of her new faith when she refused to perform some Hindu rituals with regards to her grand father's death.
Following objections from her family she left home and went to Jaseena's home at Mallapuram in the first week of January 2016. Based on her wish to convert to Islam, Jaseena's father Aboobacker took her to Therbiayyathul Islam Sabha, a conversion centre in Calicut where people have to attend a residential course and clear an examination. Her application got rejected as a resident candidate as her parents had not accompanied her.
However, the Islam Sabha enrolled Akhila as an external candidate which would enable her to complete the course somewhere else. Thus, she approached Sathya Sarani, an Islamic education centre in Mallapuram for the course but once again got rejected as she did not have a notary certificate stating that she is embracing Islam out of her own free will.
That week she pronounced her faith publicly by wearing a red head scarf to college of which her father got to know of.
On January 11, 2016 Hadiya's father filed a complaint against Aboobacker, Jaseena's father who police arrested.
On January 12, 2016, Hadiya's father filed a Habeas corpus petition at the Kerala high court and alleged that she had been converted to Islam forcefully.
On January 18, 2016 she appeared in the court along with her 'guardian' Sainaba. It was the organisation Sathya Sarani who arranged for Hadiya to stay with Sainaba, a member of Popular Front of India (PFI) and of All India Muslim Personal Law Board (AIMPLB) .
Hadiya told the court that she had been practising Islam since three years. She also requested the court to approve her wish to pursue Islamic education at Sathya Sarani between January 21 – March 21, which the court agreed to.
On July 25, 2016, upon completing the course and clearing the examination conducted by Therbiayyathul Islam Sabha Akhila converted to Islam and took the name of 'Hadiya'.
How did the case become a Love-Jihad case?
On August 17, 2016 Hadiya's father filed another Habeas corpus petition claiming that there were attempts to take Hadiya to Syria as part of an Islamic State mission. The court decided to shift Hadiya to a hostel at Ernakulam, Kerala.
In September 2016, Hadiya raised the question of why is she being forced to stay in a hostel and not at a place of her choice. The court let her move with Sainaba upon the condition that the police should be informed of any change of residence.
In November 2016, the court enquired of her source of income and her prolonged stay with Sainaba. Hadiya says that she earned a monthly income of Rs 2000 as a doctor. The court noted that Hadiya had not completed the course requirement of doing an internship as a house surgeon and thus was not licensed to practice as a doctor.
On December 19, the court decided it was better that she completed her education and instructed her father to produce all the certificates required for continuing the course.
However, on December 21, 2016, Hadiya appeared in court with Shafin Jahan and claimed to be married to him. The court expressed doubts over the marriage and the possibility of the marriage being a means to transport Hadiya to Syria as alleged by her father. Once again the court sent Hadiya to a hostel and also restricted her from using a mobile.
It said, 'The court has on the said occasion recorded the fact that since she was not possessed of a passport, there was no likelihood of her being taken to Syria. The question that crops up now is whether the marriage that has been allegedly performed is not a device to transport her out of this country..'
Sainaba in an interview with Mangalam TV said that Hadiya got to know of Shafin Jahan through matrimonial site waytonikah.com. They had made a profile for her in the site and had also put up certain conditions such as the groom has to be educated, the groom's family needs to accept her and also let her complete her education. There were many proposals but they finalized on Shafin Jahan, and Hadiya got married to him on December 19, 2016. The court was informed that the marriage was conducted by Khazi of Puthoor Juma Masjid.
In January 2017, the police submitted a report on Shafin Jahan which brought to light a criminal case registered against him. It also pointed out that Jahan is an active member of Social Democratic Party of India of Kerala and a member of the WhatsApp group' Thanal'. This raised suspicions as Mansi Buraqui, who was arrested by the National Investigation Agency (NIA) for allegedly having links with ISIS, was also a member of SDPI and Thannal.
However, Jahan maintained that he was not associated with Mansi Buraqui and the criminal case dated back to his college days when he as a member of student politics.
Kerala HC annuls the marriage
In May 2017, the court annulled the marriage and referred to it as a 'sham' . The court also said,
'We further take note of the fact that, Sri.Shafin Jahan's mother is already in the Gulf. He was working in the Gulf and is desirous of going back. Therefore, left to him, he would have transported Ms.Akhila out of the country. In the present confusion regarding her name, it would have become impossible to even trace her out had she been taken out of India. There are reports of girls taken out of the country after such conversions, having become untraceable.'
The court observed that Jahan could be a 'stooge' in the plan to transport Hadiya abroad. Thus, the court annulled the marriage and sent Hadiya to her parents.
The sudden marriage of Hadiya to Jahan brought in the angle of Love Jihad.
How did the matter reach the Supreme Court?
In August, 2017  Shafin Jahan, Hadiya's husband, approached the Supreme Court challenging the Kerala High Court for annulling the marriage and keeping Hadiya in her parent's custody. The apex court under Justice Khehar heard the counsel, but in the absence of Hadiya. The Supreme Court ordered an NIA probe in the case.
On September 16, 2017 Shafin Jahan filed another petition against the NIA probe and  challenged whether the high court can annul a marriage and questioned why Hadiya is under the father's custody. The apex court concluded that a high court cannot annul a marriage.
On October 26, 2017, activist Rahul Easwar released a video of Hadiya pleading to be set free from her father's custody.
On November 16 and 17, 2017, NIA took Hadiya's statement.
On November 27, 2017, Hadiya appeared in Supreme Court and demanded for freedom to go with her husband. Senior lawyer Kapil Sibal who represented Shahin Jahan in the case pointed to the panel that they were placing more significance on the investigation report of whether Hadiya was brainwashed and not on what Hadiya had to say or the autonomy of an individual.
To this the panel responded that they are indeed concerned of the autonomy of Hadiya, but also that this is a complex and unprecedented case.
The court instructed her to complete her education and sent her to college and appointed the dean of the college as her guardian. The next hearing is scheduled for the third week of January 2018.
Hadiya returned to her college, but through media has said that she wants her basic freedom and to meet her husband.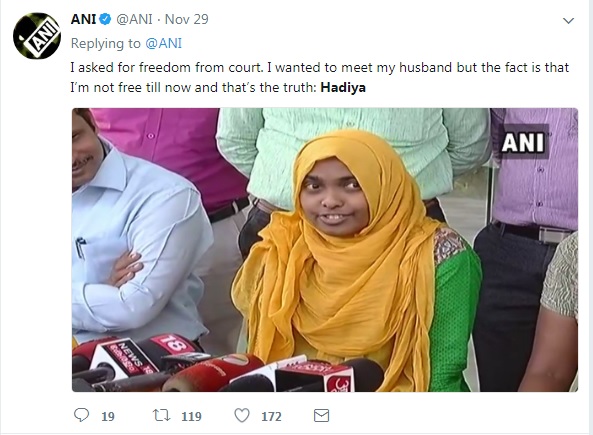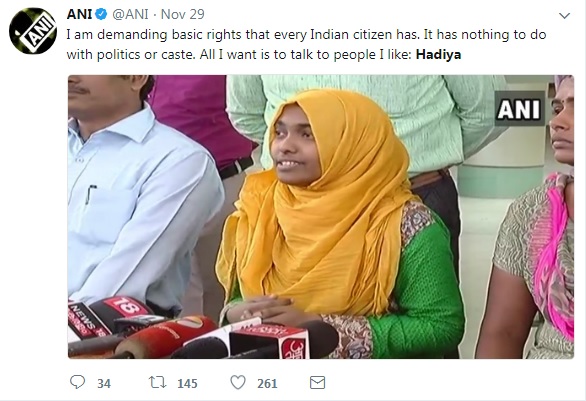 SOURCES
Judgement, Writ Petition (Crl.) No 297 of 2016, Dated May 24, 2017. Kerala High Court. www.livelaw.in
From Akhila to Hadiya: The timeline of her conversion, wedding and house arrest, The News Minute
Ground Report, How Akhila became Hadiya – and why her case has reached the Supreme Court, The Scroll