70 Soldiers Killed In 15 Days? Data Shows Viral Claim False
Data shows Facebook page 'I Support Ravish Kumar' claim to be false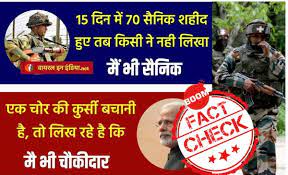 A viral post on Facebook claiming 70 soldiers have been killed in 15 days, is false, as the number of soldiers killed in India up to April 21, 2019 stands at 12, data shows.
This is accordingly to the South Asian Terrorism Portal (SATP), which has recorded daily casualty data up to April 21, 2019 this month.
The post originated on a page called "I Support Ravish Kumar', where a logo of Facebook page, "Viral In India' is visible. However, BOOM found no copy of the same post on 'Viral In India.'
At the time of writing this story, the post had been shared more than 2,500 times and interacted with a little more than 4,800 times - all in four hours.
Access an archived version of the post here.
Fact Check
This story originated on social media on April 23, and thus a fortnight before that would be April 8.
Data from the SATP says only 12 soldiers have been killed as of April 21, 2019.
However, a total of the 71 soldiers have been lost since the beginning of 2019.
The following a monthly breakup of the number of soldiers lost this year:
The high losses in February can be attributed to the Pulwama attack in Jammu and Kashmir, which alone killed 41 troops of the Central Reserve Police Force.
Here are the personnel lost in the month of April till the 21st.
The data source from the SATP can be found here.
Claim Review :
70 soldiers killed in 15 days
Claimed By :
Facebook page 'I Support Ravish Kumar'